Welcome to Brookside Mountain Mist Inn & Cottages
Luxury Bed & Breakfast and Vacation Rental Cottages in Waynesville, NC
What makes our Waynesville, NC bed & breakfast and vacation rental cottages so different? Our B&B is a single-story, mid-century ranch house. No antique furniture or doilies here! Our focus is on comfort and mountain views. We also have a unique blend of B&B suites and extended-stay cottages on our property.
At Brookside Mountain Mist Inn, our B&B offers accommodations with oversized, immaculate guestrooms, three-course gourmet breakfasts and all the amenities you would expect in a luxury accommodation.
Our extended-stay Cottages are just the right fit for travelers seeking more privacy and flexibility. They have just the right balance of comfort with all the modern conveniences to make your stay in the mountains feel like you never left home. And now you can bring your small dog with you to stay in our pet-friendly, Smokies Cottage!
Our property offers both B&B and Cottage guests a quiet park-like setting with beautiful mountain views, and a convenient location near the Great Smoky Mountains, Asheville, NC, Biltmore Estate and plenty of things to do. Enjoy views of the Smoky Mountains from our back patio or Cottage front decks. Browse the downtown Waynesville shops and galleries. Savor a variety of cuisine in many nearby restaurants. Play golf next door. Drive the Blue Ridge Parkway, just four miles away. Hike, bike, raft, kayak and fish with lofty mountains (including legendary Cold Mountain), waterfalls and scenic rivers.
Ranked as one of top 3 B&B's in Waynesville for over 12 years!
Corona Virus (COVID-19) Update:
At Brookside, we are following all CDC recommended cleaning and sanitation procedures. We are very committed to making sure our Inn is safe for our guests. Our procedures consist of first spraying down each room with Lysol Disinfectant spray upon a guest's departure. We then use a disinfecting wipe to sanitize every touch point in the guestroom. We follow that up with a thorough cleaning using Health Department approved disinfectants throughout the room and bathroom.
In addition, we provide hand sanitizer on the front desk for guests to use at their discretion. Our procedures have also been modified to include individual carafes of coffee/tea to your assigned table in the dining room. All dining room tables are at least 6 or more feet apart. The daily snack is individually wrapped and provided on your breakfast table each morning.
We do NOT enter any room during our guests' stay. Each guest is provided a phone number to contact us for any needed toiletry or amenity. This allows us to prevent guests from having contact with any other guests during their stay. Finally, we are requesting that all guests follow the NC Governor's mandate for use of masks while indoors and also outdoors when a 6 foot distance cannot be maintained.
We look forward to seeing all of our returning guests again soon and meeting our new guests! Please call us if you have any questions or would like more details regarding our disinfecting procedures. We hope that you all stay healthy and safe during this difficult time. Take care!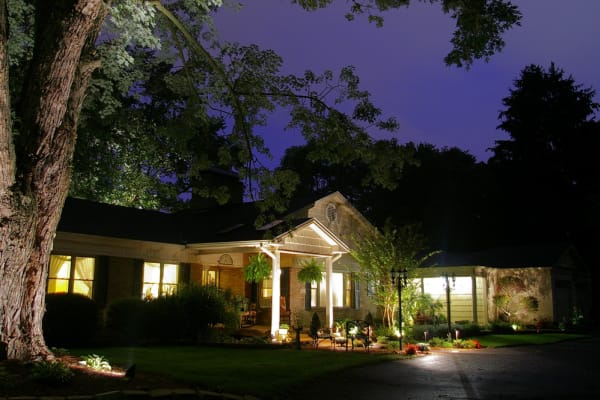 Save By Booking Direct!
When you book direct you get:
Lowest room rates possible
Most flexible cancellation terms
No hidden costs, booking or service fees
Free, high-speed internet
Priority consideration for room selection
Return guests discount applied for B&B guests
Extended-stay discounts available for both B&B and Cottage guests
Personalized service from the owners, Dina and Carolyn
Book Now!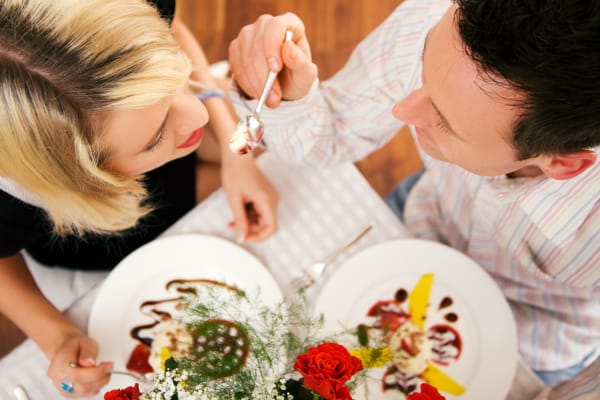 Romantic Dinner For Two at Brookside
Intimate Dinner at our Inn
Join us for an Intimate Dinner for Two right here at Brookside Mountain Mist Inn. You'll enjoy a four-course dinner, along with a bottle of wine from our wine cellar, all for only $125 per couple! When you order your dinner, online or by telephone reservation, we will send you a menu for your selections. Return your menu selections within 48 hours of your stay and we'll take care of the rest. The best part is, after dinner, you can finish your wine while enjoying the fresh mountain air on our back patio overlooking the beautiful mountains.
Come for the scenery, stay for dinner!
Book Now!
Our Waynesville Bed & Breakfast and Vacation Rental Cottages
After exploring our area, relax peacefully at our Waynesville bed and breakfast with five spacious, tastefully decorated rooms, each with private bath, fireplace, sitting area, DVD player and cable with flat screen LED TV's. Guestrooms are beautifully furnished and include the "little extras" to be expected at a luxury inn such as soft robes, hair dryers, iron and bath amenities. Awake to a three-course breakfast outside on the back patio overlooking the mountains (weather permitting) and be greeted by songbirds and playful squirrels near the waterfall. Or enjoy breathtaking mountain views from our elegant dining room picture window while savoring some of Dina's delicious breakfast treats.
Our cozy cottages offer added privacy with all the comforts of home. Enjoy your own, fully equipped kitchen, as well as a stackable washer/dryer, 50" flat screen Smart TV, corner fireplaces, free WiFi and more! If you are staying in our area for an extended period of time, our cottages will wrap you in comfort and provide you the conveniences you need to feel like you never left home!
View Suites & Cottages
Looking for a unique gift idea? Give a gift certificate for a stay at our Inn & Cottages!
TripAdvisor Reviews
We strive to provide an exceptional level of service for every guest, and are proud to have a 5-star rating on TripAdvisor.
View Reviews