About Us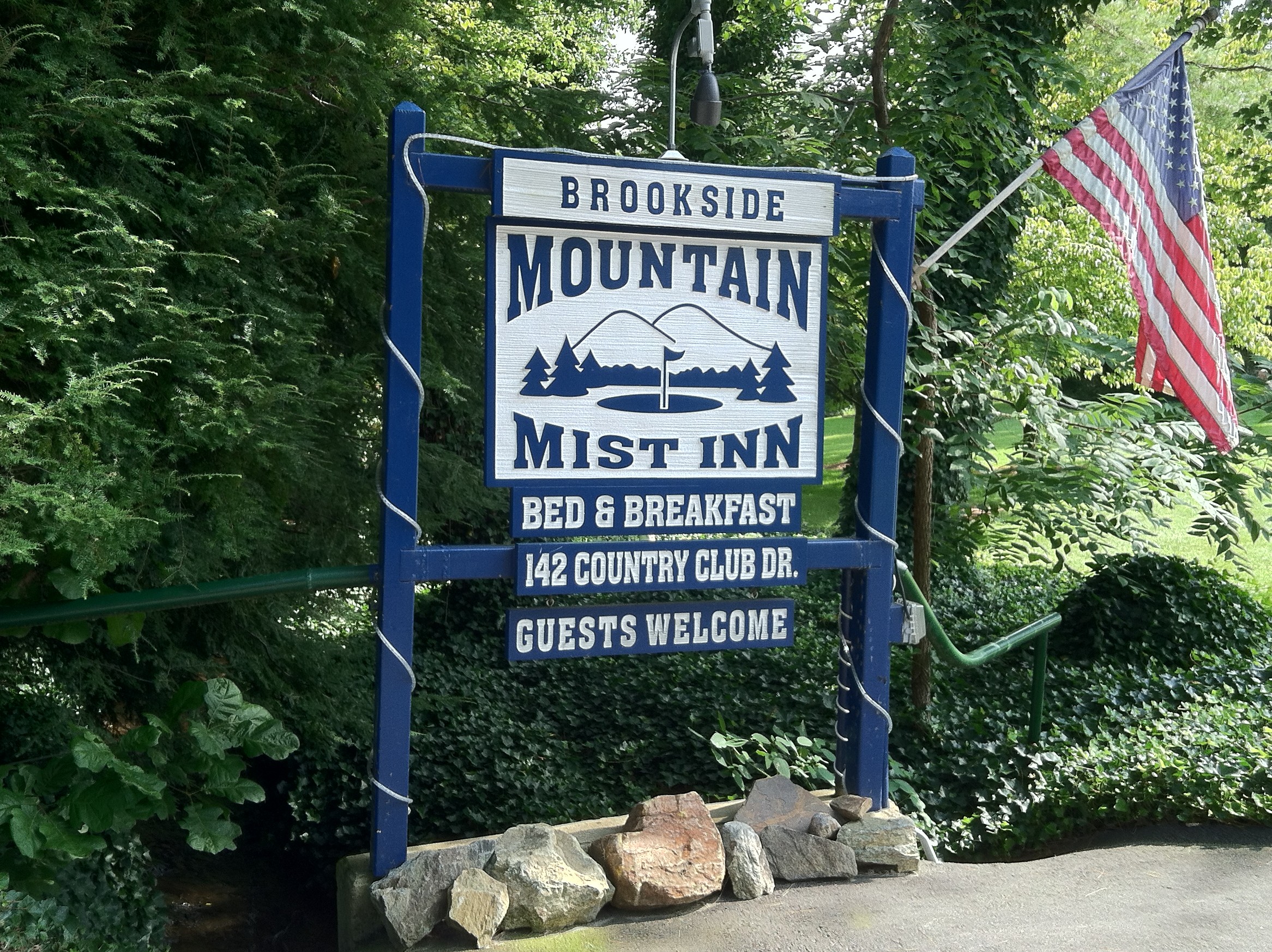 Our Waynesville bed & breakfast and Cottages have a park-like setting which includes several areas to relax and enjoy cool mountain breezes and mountain views. Whether it's from the Adirondack chairs by the brook, rocking chairs on the terrace or back Cottage deck or the cozy, two-person chair facing the sunset over the mountains, you're sure to enjoy the peaceful serenity of our Inn and Vacation Cottages. Inside the B&B, relax in our large living room by the fireplace or play one of the games from our rainy day closet. Help yourself to soft drinks, bottled water and fresh-baked afternoon snacks. We offer free, high-speed, wireless internet access (even on the back patio!).
At the Cottage Vacation Rentals, settle down in front of your cozy fireplace, watch TV on a huge 50" flat screen, watch a great DVD movie, grill out on our breezeway deck, eat in your fully equipped kitchen for some of your own great creations or just rock your cares away on the back deck overlooking the mountains. Yes, there's free WiFi here, as well!
Located just a mile away is Main Street in downtown Waynesville, a shopper's delight with art galleries, antiques, clothing, jewelry and great food. Whether you're looking for a souvenir or high-end furniture, or just window-shopping, the rewards of a stroll along the brick sidewalks are plentiful. Enjoy the quaint and relaxed atmosphere; take a break and put the bags down at one of several cafés. Head down the hill to Frog Level, the revitalized railroad district, for even more galleries and furniture shops. An easy 30-minute drive is downtown Asheville and the Biltmore Estate.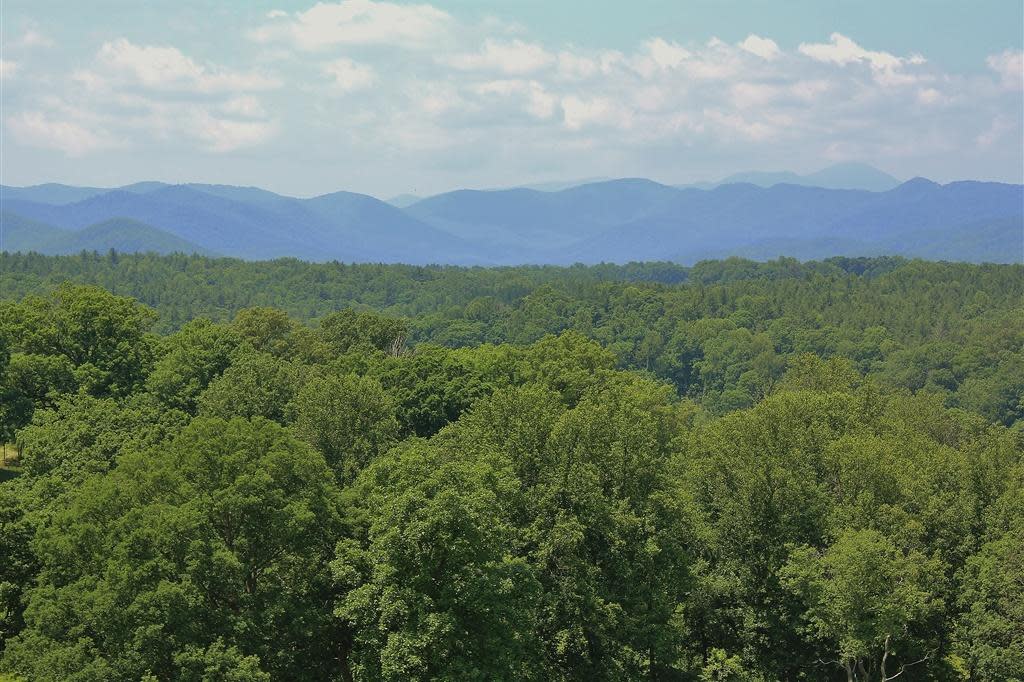 Also nearby is the Great Smoky Mountains National Park. World renowned for its diversity of plant and animal life, the beauty of its ancient mountains, and the quality of its remnants of Southern Appalachian mountain culture, this is America's most visited national park. Great Smoky Mountains National Park is a hiker's paradise with over 800 miles of maintained trails ranging from short leg-stretchers to strenuous treks.
For golf lovers, we are across the street from Waynesville Country Club and just down the road from Laurel Ridge Country Club and Lake Junaluska Golf Club.

Looking for more things to do near our Waynesville bed and breakfast? See our North Carolina Mountains Travel Guide to plan adventures while enjoying our Waynesville luxury lodging and accommodations.
Our biker friendly bed & breakfast is conveniently located near the entrance to the Blue Ridge Parkway and offers garage parking for up to 10 motorcycles! We are also only 10 minutes from Maggie Valley. Get details on great motorcycle drives in the North Carolina mountains.
"Come for the scenery, stay for the adventure!"
Our History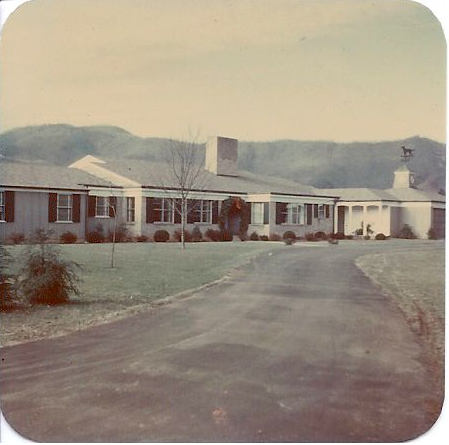 In 1950, Pat and Bill Prevost built a new home for their growing family. They didn't have far to move, as their new house was built right next door! Bill was the developer of the Maggie Valley Golf and Country Club. Pat was an accomplished, amateur golfer. Her name is still seen on plaques at both the Waynesville and Maggie Valley Country Clubs.
This one-story, ranch-style home remained in the Prevost family for many years but was eventually sold to Richard and Joanna Swanson. The Swanson's were the first to transform this family home into a bed and breakfast inn. Their concept was to provide a vegetarian, health-centered retreat for those struggling with various ailments. The original name of the bed and breakfast was Mountain Mist Inn. It was owned by the Swanson's for about ten years.
Mountain Mist Inn was then sold to Ken and Mary Malmstrom. The Malmstroms renamed it Brookside Mountain Mist Inn & Cottages and transformed it into a more traditional bed and breakfast. Ken and Mary were also instrumental in making significant renovations to the building, bringing it more up-to-date. They owned the bed and breakfast for approximately five years.

Brookside Mountain Mist Inn & Cottages was then sold to its current owners, Carolyn and Dina Giunta. Carolyn is a retired chiropractor and Dina a massage therapist, both from Florida. Their exhaustive search for a bed and breakfast ended upon entering the foyer of this elegant home. The five oversized guestrooms, huge picture windows and back terrace overlooking the mountains all contributed to the selection of Brookside Mountain Mist Inn & Cottages for their bed and breakfast. Carolyn and Dina have made additional, extensive renovations to the building including all new bathrooms, a guest services room, central heat and air in the common areas and individual heating and air conditioning systems in each guest room.
They have also recently added two extended-stay, cottage vacation rentals to the property. Recognizing that not all travelers want to stay the B&B way, Carolyn and Dina embarked on a new type of accommodation for their property. These Cottages will answer the call for those looking to stay for prolonged time spans. They are equipped with full, eat-in kitchens, have stackable washer/dryers, corner fireplaces, huge flat screen TV's and more. All with extended stays in mind.

Carolyn remarked, "We are often asked how we ended up becoming innkeepers at a bed and breakfast. Having worked in healthcare for many years, it had become second nature to want to take care of people in some way. We also wanted a home based business that would allow us to continue working for ourselves. In addition, Dina had extensive background in the food industry, having owned her own restaurant in Florida for nine years. All of these factors, as well as me being a "people-person", lead us into the bed and breakfast world. Innkeeping is certainly tough work, but well worth the time and effort. We love what we do and we hope it shows in everything we do for our guests."