Breakfast
What's for Breakfast in the Smoky Mountains?
Since breakfast is half of why you come to our Waynesville, North Carolina bed and breakfast, we thought you might enjoy a sneak preview of some of Dina's special dishes.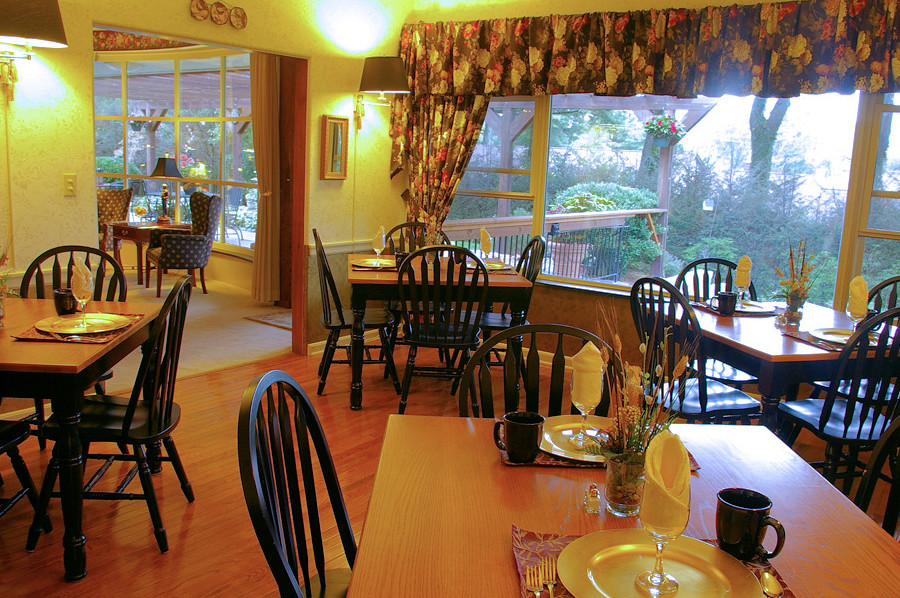 Our three-course, gourmet breakfasts consistently get great reviews from our guests. A typical breakfast will start with the first course of muffin, scone, biscuit or guava cream cheese danish (all homemade, of course!), followed by the second course fruit dish (depending on what's in season). Our favorite fruit dish is the Swiss parfait with layers of fresh strawberries and a blend of vanilla yogurt, oatmeal, crushed pineapple and slivered almonds. Then comes the entree. A guest favorite, Belgian waffles almost look too pretty to eat! We highly recommend taking a quick picture and then devouring this fruity, not-too-sweet morning treat.

Orange pecan french toast is yet another of Dina's sweet breakfasts that is sure to please. The blend of citrus and nutty flavors makes for a surprising taste sensation.

Some of our breakfast entrees are more on the savory side. Dina whips up incredible dishes like egg souffle, spinach cheese phyllo squares, sausage casserole or southwest chicken frittata. She often compliments these savory dishes with sides like homefried potatoes, cheesy hashbrowns or cheese grits souffle. One thing is certain, you'll not go away from the breakfast table hungry!

We serve our three-course, gourmet breakfast at 8:30 AM and we offer several dining options at our bed and breakfast: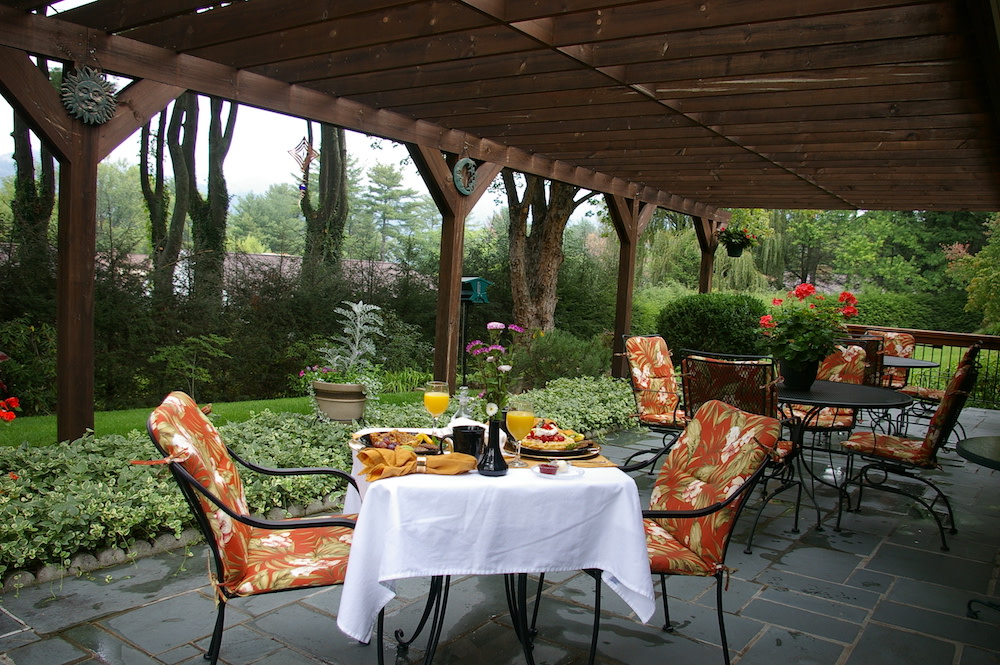 Outdoor dining on our back patio overlooking the Smoky Mountains (weather permitting). Available by request.
In our elegant Dining Room overlooking the Balsam Mountain Range.
In-room dining (for additional $20/morning) for that extra-special, romantic experience.
Brown bag breakfast for those on the go! Leaving extra early to start your Smoky Mountain adventure? No problem! Your breakfast will be on the front desk as you leave, along with a to-go cup of coffee to help kick-start your day.
We often have special dietary needs or restrictions requested by our guests.
Some examples of diets that we can accommodate are:
Diabetic
Gluten-free
Lactose intolerant
Low fat
Low sugar
Vegetarian
Vegan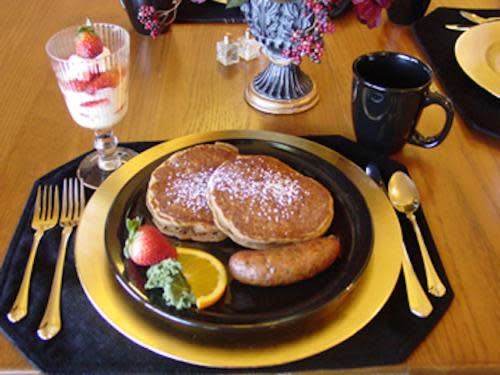 If you don't see your special diet listed here, please be sure to ask! We love the challenge of making a fabulous breakfast no matter what your special needs are. Please provide us with at least 24 hours notice for special dietary requests, outdoor patio dining or brown bag breakfasts. Breakfast is NOT mandatory. Some folks just want to sleep in and don't want our breakfast. That's OK, too! Just let us know at least 24 hours in advance and we can make any of the above arrangements for you regarding breakfast.
Enjoy a unique dining experience each morning at Brookside Mountain Mist Inn. Our dining room has individual tables that offer a private, romantic breakfast for two. If you are traveling with a group, our tables can be enlarged or combined to allow for family-style dining. No matter where you sit, you're sure to enjoy a fabulous view of the Smoky Mountains through the huge plate-glass window.

You'll also be entertained by the antics of our squirrel and chipmonk families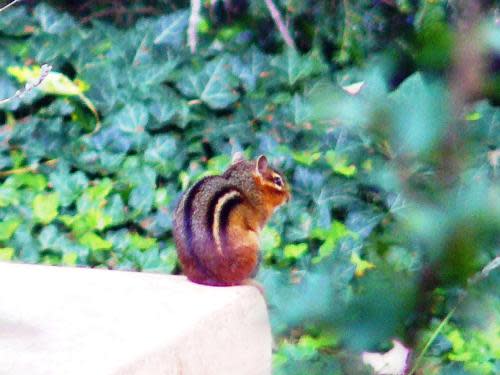 feeding and frolicking in the gardens just outside the dining room window. Our strategically placed bird feeders allow you to catch all the action each morning as the birds vie for time in the feeders. You're sure to see a wide variety of birds, such as Bluejays, Cardinals, Robins, Sparrows, Doves, Finches and, of course, the Hummingbirds.

Start each morning with a freshly brewed cup of coffee, available in our dining room by 7 AM. Sit by the fire on a cold, crisp morning sipping hot coffee and reading the morning paper. On warmer days, enjoy your coffee and paper out on the back patio overlooking the mountains. You'll have a front row seat to the bird symphony that takes place each morning and enjoy the fresh mountain air.
Here's what some of our guests had to say: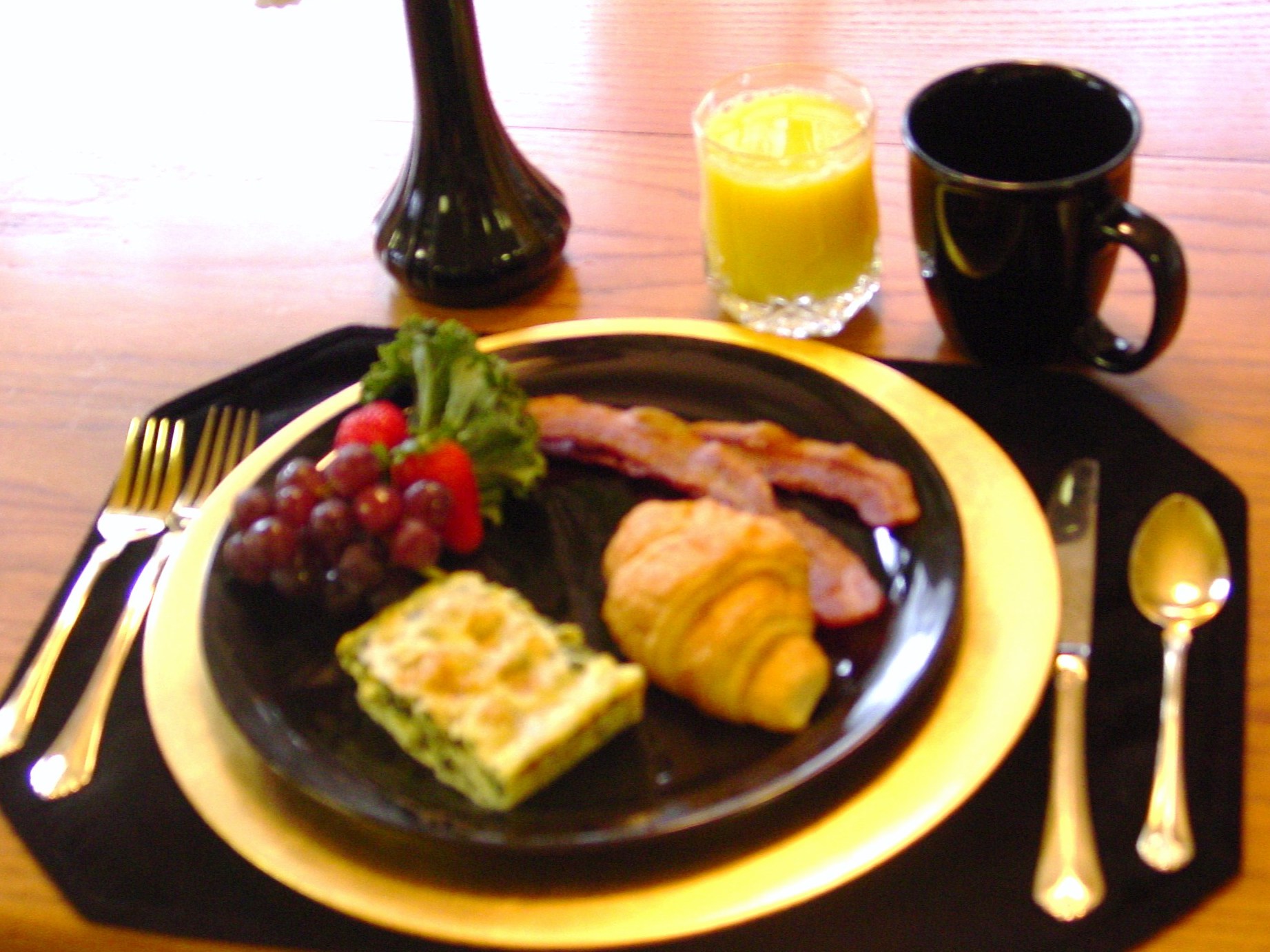 "The breakfasts have been incredible - it will be hard to go back to oatmeal and cereals!" Hanna & Pierre, Sweden
"Our tastebuds still haven't gotten over the cream cheese and guava pastry from Saturday morning." Jeremy & Rodney, Columbia, SC
"We enjoyed all the scrumptuous breakfasts and looked forward to the afternoon goodies." Bonnie & Keith, Orange Park, FL
"The breakfasts were a delicious work of art and we loved walking into your lovely dining room each morning and enjoying the most wonderful breakfast surprises." Russ & Merrill, Titusville, FL
"The breakfasts are amazing, creative and delicious." Diana & Bob Raleigh, NC

Recipes
Here are some of the favorite recipes from our Asheville area bed and breakfast inn for you to cook
It's finally here! Favorites from our Inn Volume 2!! Get one for $10.99 or both for $20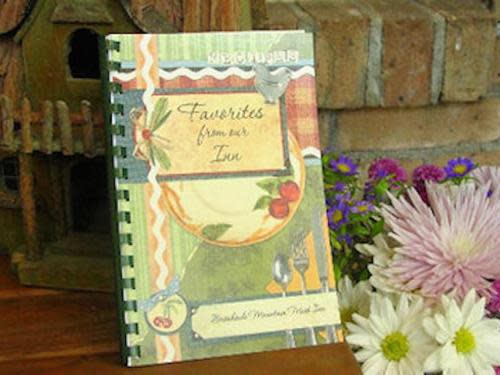 Our Cookbook: "Favorites from our Inn"
Just a reminder that we have all of our most popular recipes available in our very own recipe book, "Favorites from our Inn". It can be yours for only $10.99 (plus tax & $4 s/h). Enjoy our gourmet breakfasts right in your own home! There's over 80 recipes, including some of our favorites right from our moms' kitchens. We accept checks and money orders via US mail or you may call us, toll free, at 1-877-452-6880 to order using your credit card.
Sausage Ham Casserole
Serves 10
Ingredients:
½ lb. Hot Ground Sausage
6-10 Thin Slices of French Bread
2 Cups Shredded Cheddar Cheese
6 Eggs
2 Cups Milk
2 Teaspoon Mustard
¼ Teaspoon Black Pepper
1 ½ Cup Chopped Ham
Directions:
1. Place Bread in a 9x13 baking pan sprayed with cooking spray.
2. Cook Sausage and drain well. Sprinkle over Bread.
3. Sprinkle half of the Cheddar Cheese over Sausage.
4. Whisk together Eggs, Milk, Mustard and Pepper and pour over Cheese.
5. Sprinkle with Chopped Ham and top with remaining Cheese.
6. Cover and Chill Overnight.
Bake Casserole at 350 degrees for 50-55 minutes. May need to cover during last 20 minutes of cooking time.
Snickerdoodle Bars
Preheat oven to 350 degrees and line a 9x13 baking pan with aluminum foil sprayed with cooking spray
Ingredients:
2 Sticks of Butter
1 Cup Sugar
1 Cup Brown Sugar
2 Eggs
2 Teaspoon Vanilla
2 ¼ Cup All Purpose Flour
2 Teaspoon Baking Powder
½ Teaspoon Salt
1/8 Cup Sugar
1 Teaspoon Cinnamon
Directions:
1. 1. Melt butter in microwave, make sure it does not boil.
2. Add Sugar, Brown Sugar, Eggs and Vanilla. Beat with a mixer until combined.
3. Add Flour, Baking Powder and Salt, mix until well blended.
4. Transfer to prepared pan and spread evenly with a spatula.
5. Mix together 1/8 Cup Sugar and Cinnamon and sprinkle it over the top.
6. Bake for 30 minutes or until toothpick comes out almost clean.
7. Cool completely before cutting.