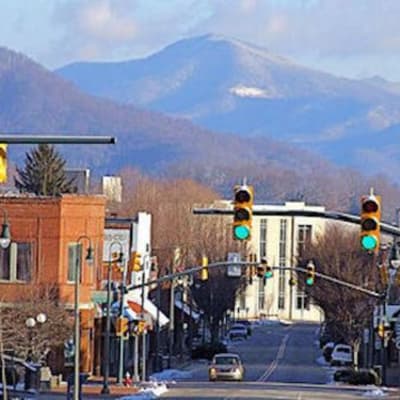 Events Calendar
2020 Waynesville Events
Festivals, special events and performances are held frequently in downtown Waynesville, sponsored by the Downtown Waynesville Association and other area organizations. All take place on Main Street unless otherwise
stated.
All dates are subject to change. Please check before traveling.DowntownWaynesville.com.

January 18, February 15, March 14 – WINTER ART SMOKIES STYLE
A day of music, art and fun in downtown Waynesville sponsored by The Galleries of Haywood County.

February 1-29- LOVE THE LOCALS
Main Street businesses will offer special incentives and promotions for local patrons the entire month of February. Watch Facebook and downtownwaynesville.com for details.

May 23- ROCKIN BLOCK PARTY
Dancing on Main Street; Live Music from 7-10 pm; Kid's activities; Restaurants open
May- December, 1st Friday, "Art After Dark"
Downtown galleries remain open until 9 p.m. Artist's receptions, live demonstrations, musicians. Other businesses also remain open.

May 2 & 3- AMERICAN LEGION 88TH ANNUAL RAMP FESTIVAL
Sponsored by the American Legion. Located at the American Legion field on Legion Drive.

June 6- QUICK DRAW
Artists competition and auction. Find out more: wncquickdraw.com

June 26, July 10 & 24, and August 7- MOUNTAIN STREET DANCES, Friday nights.Courthouse lawn, 6:30 – 9 p.m. Old-fashioned mountain hoe down, clogging & square dancing, live mountain music, demos, instruction, audience participation.

July 4- STARS & STRIPES CELEBRATION, 11 a.m. to 3 p.m.
Live music and entertainment. Shops & restaurants open all day. Patriotic kid's parade at 11 a.m. (ALL KIDS WELCOME. Show up, sign up at 10 a.m. on the courthouse lawn. Ice cream for participants at the end of the parade, First Baptist Church).

July 16-26- FOLKMOOT CELEBRATION See folkmoot.org for details
July 18 FOLKMOOT PARADE OF NATIONS, 10 a.m.
Dancers and musicians from around the world parade down Main Street to the historic courthouse for Opening Ceremony.

July 25- 38TH ANNUAL INTERNATIONAL FESTIVAL DAY, 10 a.m. to 5 p.m.
Where the world meets on Main Street- crafts, music, dance, and food.

August 1 – DOWNTOWN DOG WALK
Supporting SARGE'S Adoption Center. Courthouse lawn. Fun starts at 9 a.m.
More information at: sargeandfriends.org

September 19 – ROCKIN BLOCK PARTY
Dancing on Main Street; Live Music from 7-10 pm; Kid's activities; Restaurants open

September 25- MOUNTAIN STREET DANCE, 6-8 p.m.
Courthouse lawn, 6 to 8 p.m. Old-fashioned mountain hoe down, clogging & square dancing, live mountain music, demos, instruction, audience participation.

October 10- 37th ANNUAL CHURCH STREET ART & CRAFT SHOW
10 a.m. to 5 p.m. Main Street. One of the finest one-day juried art shows in the region. Main Street becomes an Art & Craft Marketplace for the day; food & drinks; live music on two stages; clogging teams and other live entertainment, and more. Sponsored by Downtown Waynesville Association and The Town of
Waynesville.
October 17 – APPLE HARVEST FESTIVAL
10 a.m. to 5 p.m. Crafts, music, apples and more apples. Sponsored by the Haywood County Chamber of Commerce

October 31- TREATS ON THE STREET
5 to 7 p.m. Young children "trick or treating" for Halloween treats along Main Street

December 1-31 "ALL THROUGH THE TOWN"
Seasonal events "all through the town" during the month of December

December 4- WAYNESVILLE CHRISTMAS TREE LIGHTING
Ring in the Christmas season as we light our community Christmas tree. Sip hot cocoa and sing Christmas carols, as town officials light the tree. 6 p.m. The Oak Park Inn & Kandi's Cakes & Bake Shop.

December 4-7- "HOLLY DAYS"
Fun-filled holiday happenings among downtown businesses throughout the Christmas season, beginning with the Waynesville Christmas Tree lighting on Friday evening and culminating with the Waynesville Christmas Parade the following Monday, Dec. 7.

December 7- ANNUAL WAYNESVILLE CHRISTMAS PARADE, 6 p.m. Main Street.
December 12- ANNUAL "A NIGHT BEFORE CHRISTMAS"
6 to 9 p.m. Shops, galleries and restaurants open late. Live music, live carolers, Bethlehem market place and live nativity, old-fashioned wagon rides, Santa & Mrs. Claus, storytelling, luminary-lined streets and more.
Sponsored by Downtown Waynesville Association and The Town of Waynesville.

December 13-24- TWELVE DAYS OF CHRISTMAS
Magical moments and memories fill the downtown district for 12 days.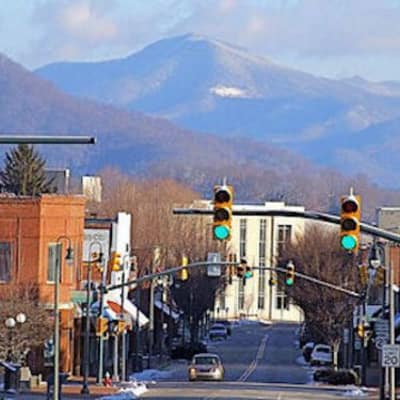 Travel Guide
Our bed and breakfast is located near so many attractions in the Asheville & Waynesville area, including Biltmore, Blue Ridge Parkway and Great Smoky Mountains! So where to begin? Let us help with this comprehensive 12-page Waynesville & NC Mountain Travel Guide with our guests' Top Things To Do:
Waynesville: Explore the quaint shops and wonderful restaurants in nearby downtown Waynesville with a surprising number of fine galleries and specialty shops. Read more about Waynesville. See the downtown's calendar of events.
Biltmore Estate: Just 30 miles away in Asheville is the famous Biltmore Estate with America's largest home, the country's most visited winery, breathtaking gardens and fabulous restaurants. Spend the day exploring more than 8,000 acres. Read more about Biltmore.
For years, Asheville has been designated as "Beer City, USA". In fact, Asheville does have over 40 craft breweries and beer pubs from which to choose. Can't decide which one you want to visit for a tour? Not to worry. Asheville Brewery Tours can help you out. Contact them at www.ashevillebrewerytours.com for more information about types of tours offered and tour times available.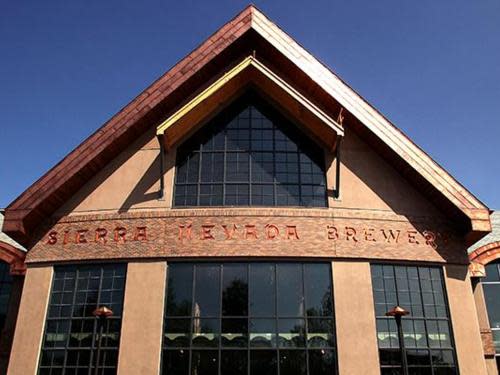 Sierra Nevada Brewery Tours
Asheville's newest brewery addition, Sierra Nevada prides itself on being a sustainable beer maker and has just opened a huge facility in Mills River, just south of Asheville off of I-26. They also have a 400 seat "TapRoom" which boasts 23 beers on tap—many produced just a few feet from the restaurant. Beers are accompanied by artful, chef-driven food focused on small plate, sharable, whole animal and farm-to-table dishes sourced mainly from local suppliers. See their website at http://www.sierranevada.com/brewery/north-carolina/brewery-tour for details of their tours and to book your tour online.
Waynesville Microbreweries
Although a small town in the Smoky Mountains, Waynesville has answered the call for microbrewery beers in WNC. We now have three microbreweries in the Waynesville area!
Frog Level Brewing Co.
56 Commerce St. Waynesville, NC
(828) 454-5664
http://www.froglevelbrewing.com
BearWaters Brewing Company
101 Park Street, Canton, NC 28716
(828) 246-0602
http://bearwatersbrewing.com/
BooJum Brewing Company
50 N Main Street Waynesville, NC 28786
(828) 246-0350
http://www.boojumbrewing.com
All of our microbreweries offer unique food pairings and inspired southern quisine along with their brews, flat screen TV's and enjoyable atmospheres. Come for the scenery, stay for the microbreweries!
Leap Frog Tours and Transportation Services
Offering a variety of transportation and unique tour services, Leap Frog Tours has something for everyone's interests. Their tours offer exciting opportunities to explore many different aspects of Western North Carolina, from beer to art and everthing in between. They also offer shuttle services from Asheville airport and to many of the area attractions. In addition, they can customize transportation or tours for any size group or function. Call them at 828-507-1421 for more information. You can also select from a variety of tours on their website at www.leapfrogtours.com.
Great Smoky Mountains National Park: World renowned for its diversity of plant and animal life, the beauty of its ancient mountains, and the quality of its remnants of Southern Appalachian mountain culture, this is America's most visited national park. Read more about the Great Smoky Mountains.
Cataloochee Valley Tours: Let our naturalist take you on a guided Eco-tour to one of the best kept secrets in the Great Smoky Mountains -- Cataloochee Valley!
Travel back in time to one of the most beautiful and remote parts of the Great Smoky Mountains National Park. You will be transported comfortably in our eco-friendly Chevy Tahoe Hybrid SUV over the rugged, winding mountain road once called the "Cataloochee Turnpike."
Cataloochee Valley is steeped in history, laced with abundant wildflowers and rich with wildlife including elk, white-tailed deer, black bears, salamanders and many species of birds like cedar waxwings, indigo buntings, wild turkeys and ruffed grouse. Visit www.cataloocheevalleytours.com for more information or call 828-450-7985 to make reservations. Tours run year round, weather permitting.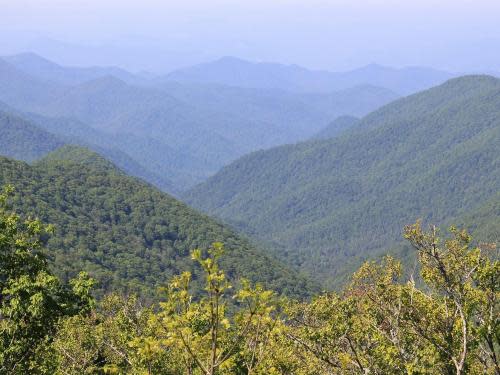 Hiking, Biking, Skiing, Fishing, Rafting & Horseback Riding: The Waynesville area is a outdoor lover's dream with thousands of miles of hiking and biking trails, a ski resort, great rivers for fishing and whitewater rafting on the Nantahala and guided horseback rides near our bed and breakfast. Read more about Outdoor Activities.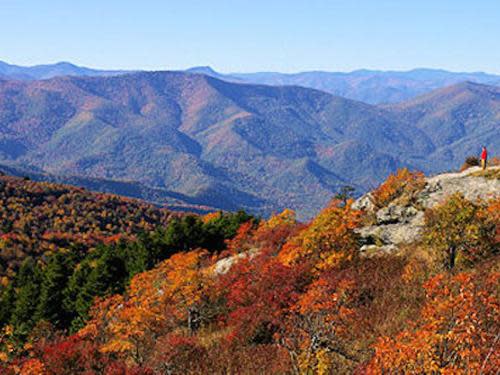 Waterfalls: Welcome to the Land of the Waterfalls. There are hundreds of waterfalls in our area, so we've selected a few of our favorites to share with you. Read more about Waterfalls.
Blue Ridge Parkway: Take a drive on one of America's most scenic roads. Some of most spectacular views of the entire Parkway are a short drive from our bed and breakfast inn. Read more about the Blue Ridge Parkway.
Downtown Asheville: For more great shopping and dining, explore downtown Asheville with 200+ stores, 30+ art galleries, 50 restaurants, beautiful architecture and talented street entertainers. Read more about Downtown Asheville.
Maggie Valley & Cataloochee Ski: Just 10 minutes away is Maggie Valley, home to Ghost Town in the Sky, musuems, live music, shops and great winter skiing. Read more about Maggie Valley & Catloochee Ski Area.
Golf: We are across the street from Waynesville Country Club and just down the road from Laurel Ridge Country Club. Read more about Golf.
Cherokee & Harrah's Casino: Just 30 minutes from our bed and breakfast inn is the action and excitement at Harrah's Cherokee Casino & Hotel and the cultural and historic attractions of the Eastern Band of the Cherokee Indians. Read more about Cherokee and Harrah's Casino.
Drives for Motorcycles & Sports Cars: There is no better way to experience the Smoky Mountains than driving a motorcycle or sports car on our curvy, hilly roads that include the Tail of the Dragon, Blue Ridge Parkway and Cherohala Skyway. Read more about Drives for Motorcycles and Sports Cars.
Enjoy planning your trip with our Waynesville & NC Mountains Travel Guide! Please email us your suggestions for additions.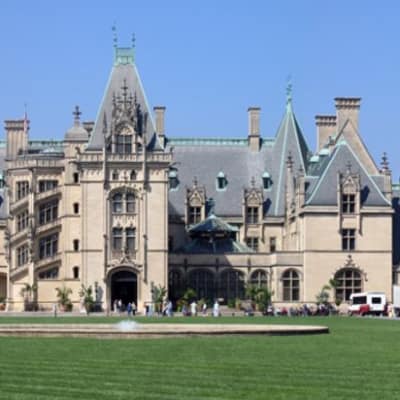 Biltmore Estate
House
Be inspired by the relaxed elegance of George and Edith Vanderbilt's 250-room family home and country retreat, the Biltmore Estate, in Asheville, NC. Discover original art from masters such as Renoir, magnificent 16th-century tapestries, Napoleon's chess set, a library with 10,000 volumes, a Banquet Hall with a 70-foot ceiling, 65 fireplaces, an indoor pool, bowling alley, and priceless antiques. Opened to friends on Christmas Eve 1895, this French Renaissance chateáu remains America's largest privately owned home. A self-guided visit of Biltmore House is included in estate admission. Allow about two hours to explore the house.
Winery & Antler Hill Village
Taste Biltmore's own wines, produced and bottled on the estate in our 90,000 square foot facility. The winery, which opened in 1985, is housed in a converted dairy barn, originally designed by Richard Morris Hunt, the architect for Biltmore House. The operation includes 94 acres of vineyards and is a natural extension of the estate's ongoing agricultural program including cattle, sheep, and an extensive Kitchen Garden supplying the property's four restaurants. Biltmore Winery offers guests the opportunity to view fermentation and bottling rooms, stroll through the cellars, enjoy special food and wine events and, of course, taste the finished product. The winery is located in Antler Village, home to restaurants, shops and a special exhibit.
Gardens
Stroll acres of formal and informal gardens designed by America's foremost landscape architect, Frederick Law Olmsted. From the formal beauty of the Italian Garden to America's first managed forests, Biltmore's lush landscape is a living tribute to Olmsted's genius. Our experts continually work to preserve the original vision for the gardens and grounds, including our All America Rose Garden featuring more than 250 varieties of roses. Biltmore's walking trails are a testament to Landscape Architect Frederick Law Olmsted's belief that the landscape should be enjoyed and admired by guests. Each path provides a new opportunity to discover nature and the estate's wildlife and bird community. Walk along what was once the main carriage drive on the Glen Road, or explore the estate's rustic side with the Bass Pond and Creekside Trails. In spring and summer, the Meadow Trail features wildflowers and grasses, while the Woodland Trail is ablaze with azaleas in spring. Even in winter, the Conservatory offers displays that allow guests to get a taste of summer while staying warm and dry.
Farm
For those interested in learning about Biltmore's agricultural heritage, there's Antler Hill Farm. In addition to displays of historic farm equipment, guests can explore the Kitchen Garden and meet draft horses, calves, lambs and chickens at the Farmyard. On select dates throughout the year, visitors can enjoy mountain music and see artisans including a blacksmith and woodworkers practice their craft.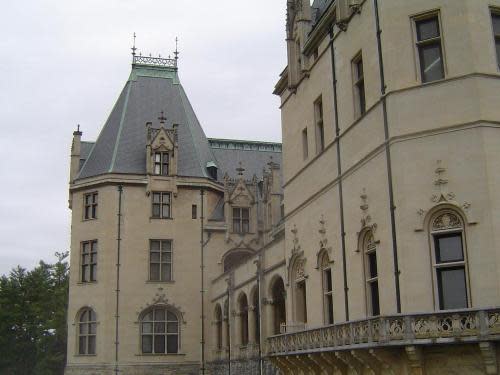 History
Building Biltmore was, at the time, one of the largest undertakings in the history of American residential architecture and the results were astounding. Over a six-year period, an entire community of craftsmen worked to build the country's premier home. The estate boasted its own brick factory, woodworking shop, and a three-mile railway spur for transporting materials to the site. The celebrated architect Richard Morris Hunt modeled the house on three châteaux built in 16th-century France. It would feature 4 acres of floor space, 250 rooms, 34 bedrooms, 43 bathrooms, and 65 fireplaces. The basement alone would house a swimming pool, gymnasium and changing rooms, bowling alley, servants' quarters, kitchens, and more.

Events
Whatever the time of year, Biltmore offers ever-changing ways to enjoy Vanderbilt's historic property. Each spring, the estate celebrates with a month-long Festival of Flowers and Easter weekend wouldn't be complete without the massive egg hunt on the Front Lawn of Biltmore House. Summer is packed with activities including Winery Summerfest Weekends offering great jazz and blues and Summer Evening Concerts bringing nationally known acts to the South Terrace of Biltmore House for fabulous music under the stars. In the fall, Biltmore welcomes cooler weather with Field to Table Celebration. And then there's Christmas at Biltmore and Candlelight Christmas Evenings when the 250-room chateau is transformed into a fairytale castle with miles of evergreen garland, hundreds of poinsettias, dozens of Christmas trees and a magnificent 35-foot tall live Fraser Fir decked with lights, ornaments and gifts.
Outdoors
George W. Vanderbilt enjoyed living in the Blue Ridge Mountains of Western North Carolina not only for the area's natural beauty, but also for the recreational opportunities it afforded. One hundred years ago, Vanderbilt's guests spent hours enjoying a variety of outdoor activities on the property during their visits. And now, those original activities, plus a few more modern adventures are available to today's guest. Guided by expert staff versed in outdoor sports as well as the history of Biltmore Estate, guests can enjoy hiking, mountain biking, horseback riding, float trips, carriage rides, fly-fishing, Segway tours, sporting clays, day camps and the Land Rover Experience Driving School. The Explore Biltmore Outdoor Center is located in an historic estate farmhouse on the property. Required reservations for activities can be made at the outdoor center, at the estate's Welcome Center or at the Biltmore House Stable complex. An estate admission ticket, Twelve-Month or Vanderbilt Pass or inn reservation is required.
Special Guided Tours
The South Wing Behind-the-Scenes Tour guides guests into attic spaces and onto the rooftop for an hour-long exploration. Enjoy a panoramic look at Biltmore's grounds, gardens and the Blue Ridge Mountains while examining architectural, structural and technological details.
The 60-minute North Wing Behind-the-Scenes Tour takes guests into a variety of areas of Biltmore House that have not been restored including bachelor's bedrooms and the butler's pantry. A highlight of the tour is stepping out onto the Organ Loft in the Banquet Hall where a Skinner pipe organ entertains visitors. Guests can even explore the sub-basement, which houses the technology that made Biltmore House a 19th-century model of creature comfort.
The Legacy of the Land Tour is a 90-minute guided motor coach ride that delves into the land's rich past and offers information about the people and places that existed before Vanderbilt's arrival. See remnants of a community church, a railroad trestle and important archeological and historical locations as you tour the estate's pastoral landscape.
Dining and Shopping
From a simple, fresh-baked pastry or gourmet ice cream snack to our hearty rotisserie fare, wood-fired pizzas, bountiful buffets, and unforgettable specialties—savor every moment of dining on the estate. There are five restaurants to choose from. Plus, there are nearly a dozen shopping venues, including shops in the former stables beside the Biltmore House.
At the end of a long day exploring the Biltmore Estate, head back to your cozy accommodations at our Waynesville bed and breakfast for a late afternoon snack and a glass of wine from our wine cellar selections. Sip and snack on our back patio overlooking the beauty of the Smoky Mountains.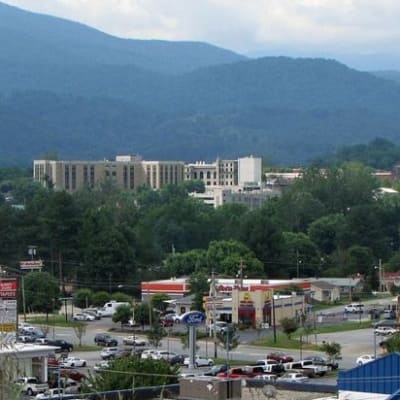 Downtown Waynesville
Even before the railroad made it easy to get here, visitors flocked to Waynesville for the cool, clean air, clean water, outstanding scenery and an opportunity to escape sweltering cities. Historic Downtown Waynesville is as busy as ever with plenty of shops and restaurants. It's just a mile from our bed and breakfast luxury accommodations.
You're bound to fall in love. Downtown Waynesville's quaint old buildings, brick sidewalks, galleries, tempting foods and old-time general store will take you back to a more leisurely time. A time when people made you feel welcome and when you could slow down and really savor the present. See a list of downtown galleries and specialty stores below.
When it's time to dine, there is everything from hearty country fare to the local specialty mountain trout, to fine international cuisine and high-end gourmet. See our list of restaurants below.
Waynesville is also home to superb mountain golf. Under a fresh mountain sky, you can tee off at one of our many golf resorts and golf courses and play along kush fairways ringed with awe inspiring mountain views. See our Golf Guide.
Waynesville may be a small town, but it's big on entertainment and culture. There's nightlife and music for every taste - from bluegrass and country to jazz, contemporary and folk. The award-winning, HART theater features a full schedule of performances year round. Mention you are staying with us at Brookside Mountain Mist Inn & Cottages and get a 10% discount off all tickets purchased!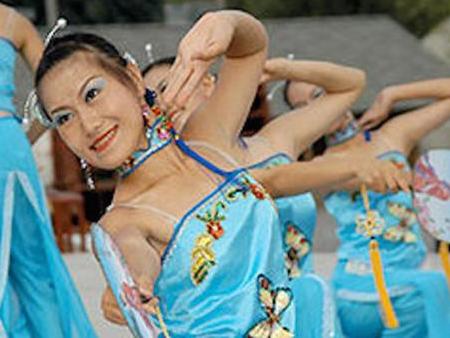 Folkmoot U.S.A. attracts entertainers from all over the world. North Carolina's Official International Festival, Folkmoot is a two-week celebration of the world's cultural heritage through folk music and dance. Held each July in and near Waynesville, Folkmoot features performances, parades and workshops by more than 350 performers from a dozen or so countries. Performers demonstrate cultural heritage through colorful, authentic and original reproduction costumes, lively dance and beautiful music. During its 25-year history, over 200 folk groups from more than 100 countries have shared their heritage and culture at Folkmoot USA. Go to the Folkmoot website for more.
The Shelton House Museum of North Carolina Handicrafts in Waynesville showcases a distinctive collection of art, handicrafts and furniture created by North Carolina artists. An outgrowth of an annual North Carolina State Fair exhibit, "Village of Yesteryear," the Museum's displays include intricate woodworking, weaving, quilting Seagrove and other pottery, dolls, a Native American room, and many other artifacts.
Many nearby anique shops are a must for antique lovers. Balsam Antique Mall has 100 booths and is located next door to Thad Woods Auction, that holds antique, estate and business auctions. Looking for a unique treasure? Be sure to visit Scallyway's Consignment with over 12,000 square feet of buried treasures waiting for you to find!
Downtown Waynesville Restaurants
There many restaurant choices near our bed and breakfast. We will be glad to make recommendations, and we have copies of menus from many of the restaurants at the inn. Carolyn's favorites for dinner are Bourbon Barrel Beef and Ale for the flank steak and Bogart's for their outstanding burger and sweet potato fries. Dina's favorites are The Sweet Onion Restaurant for their delicious crab cakes and Nick and Nate's Pizzeria for the spinach and feta pizza. We both love The Chef's Table. Carolyn's favorite there is the mountain trout and Dina's is the deconstructed lasagna. For lunch, Carolyn & Dina recommend Tipping Point Tavern for their incredible nachos and Panacea for their awesome soup and sandwich combos.
Chef's Table Restaurant
30 Church St.
Upscale American Dining. Reservations suggested.
Bocelli's Italian Eatery
319 N. Haywood St.
Brick oven pizza, pastas, Italian entrees & subs.
Birchwood Hall Southern Kitchen
111 N. Main St.
Regionally inspired and house crafted southern cuisine created with locally sourced and seasonal ingredients, decadent desserts, prohibition-era craft cocktails, local beer and wine.
Panacea Coffeehouse, Cafe & Roastery
66 Commerce St., Historic Frog Level
Homemade eats, treats and creekside seats.
Bogart's
303 S. Main St.
A favorite of the locals. Great steaks & burgers.
Frogs Leap Public House
44 Church St.
A Unique Farm to Fork Experience: Innovative Southern Food with a Local Backbone & Home Grown Libations.
Bourbon Barrel Beef & Ale
454 Hazelwood Ave.
We specialize in hand-cut, all natural steaks from local farms, incredible burgers, and other classic american comfort foods that are made using only the finest local and sustainable ingredients available.
The Classic WineSeller
20 Church St.
The Wine Bar at the Classic WineSeller is a unique small plate dining venue, featuring Tapas, Panini's, Bruschetta, Salads, Dips, Spreads, and Cheese plates. We emphasize local, cheeses and beers. In addition there is a large selection of wines and beers from all around the world. Large screen TV is available for news or special events. Live music is scheduled through out the year. Join us for wine food friends and good times in our quaint underground cellar.
Maggie's Galley Seafood & Oyster Bar
1374 Sulphur Springs Rd.
Great seafood at a great price. A local favorite and open 7 days a week.
Jack The Dipper Ice Cream Parlor
76 Waynesville Plaza
We are an old fashioned hand-dipped ice cream emporium. Made to order warm waffle cones (vanilla or cinnamon).
Church Street Depot
34 Church Street
Mouthwatering all-beef burgers and dogs, real ice cream shakes and floats, hand cut fries. Locally sourced beef. Bottled sodas, beer, wine, fresh-brewed iced tea.
Smoky Mountain Sub Shop
29 Miller St.
A Waynesville tradition. We've been serving great food for over 20 years. Come in and enjoy our relaxed, casual atmosphere.
Scoops Ice Cream
65 S. Main St.
Sandwiches, drinks, ice cream.
The Sweet Onion Restaurant
39 Miller St.
Casual dining, regional fare, mountain views.
Tap Room Sports Bar & Grill
176 Country Club Dr.
Serving lunch & dinner. Just across the street from our Inn!
The Patio Bistro
26 Church St.
Mediterranean, Vegetarian, American cuisine.
Haywood Smokehouse
79 Elysinia
Specializing in Texas-style, smoked brisket.
Pub 319 "Your Neighborhood Sports Hub"
319 N. Haywood St.
Great food including mouth-watering Angus burgers, fish tacos, garlic fries, ball park type hot dogs with all the toppings.
BooJum Brewing Company
50 N Main Street
The newest of our four microbreweries, Boojum offers great food paired with amazing local beers. We give it a two-thumbs up!
Firefly Taps and Grill
128 N. Main St.
Carolina Mountain Cooking! A must experience in WNC. Located in Downtown Waynesville, with an atmosphere that will warm your heart and your belly! Weekly events like "Name that Tune"
Waynesville Pizza Company
32 Felmet Street
Pizzas, burgers, wraps, salads, subs, sandwiches, domestic and locally hand-crafted beers, large bar, flat-screen TV's and outdoor seating.
Mad Anthony's Tap Room & Restaurant
180 Legion Dr.
Premier venue for craft beer in Waynesville, North Carolina. We have a passion for great beer, delicious food, and good company.

Sauced
190 N. Main St.
Pizza, Tacos & Taps
Ian & Jojo's Pizzeria and Restaurant
18 N. Main St.
Some of the finest food in Waynesville, NC - created from classic Italian recipes.


Downtown Waynesville Galleries

Burr Studio/Turnabouts
136 N. Main St.
Sculpture & pottery by Dane & Mary Etta
Cedar Hill Studio
"The Back Door" on Wall St.
285 Wall St.
Open by appointment - Local artist Gretchen Clasby's work
Earthworks Galleries
21 N. Main St.
Jewelry, fine art & glass, custom framing
Gallery 86
Haywood County Arts Council
86 N. Main St.
Mountain Styles
176 N. Main St.
Original photography & art pieces
Ridge Runner Naturals
Wild Mountain Watercolors & Oils
33 N. Main St.
Original watercolors, oils & photography of the mountains
Sculpture Garden & Metal Art Gallery
136 Depot St.
Located in Walker Service Center
Moose Crossing Burl Wood Gallery
184 N. Main St.
Art, antique furniture, architecturals, stained glass.
www.burlgallery.com
See the Downtown Calendar of Events
Downtown Waynesville Specialty Stores
Leapin' Frog Gallery
58 Commerce St.
Art, antiques, eclectic home decor
Olde Brick House
66 N. Main St.
Reporoduction furniture, lighting, nostalgic gifts
Blue Ridge Books & News
152 S. Main Street
Full espresso bar, local pastries, Wi-Fi
Affairs of the Heart
120 N. Main St.
Old, new and handcrafted gifts and collectibles.
High Country Style
121 N. Main St.
Just Ducky & Friends
25 Miller St.
Features overstock specials on Just Ducky Brand and other children's brands. Unique baby items, gifts, and accessories.
Elegant Interiors
39 N. Main St.
Full service interior design and consulting firm offering elegant furnishings, custom window treatments, and beautiful decorative accessories for the entire home.
Massie Furniture Co. Inc.
45 N. Main St.
Featuring the area's largest selection of quality furniture, carpet, and appliances…all at discount prices.
Cheddar Box Country Store
90 N. Main St.
Our small town country feel carries over to our online presence. Customers can shop or browse our eclectic array of mountain gourmet and specialty items.
Delectable Treasures, Inc.
145 & 163 S. Main St.
Visit our candy factory located in the historic former Way Inn buildings and see how our superior quality line of gourmet chocolates are made with first rate ingredients. Each treasure is prepared by hand in small quantities with intricate detail. No machines. Delicious treats created to simply tempt your taste buds. Sugar free products available and custom orders welcome. You will embark on a divine taste experience!
Mountain Home Collection
110 Miller St.
Take a short stroll "off Main" to discover a shopper's paradise filled with eclectic can cabin décor. Featuring Park Design, Donna Sharp purses, valances, and quilts plus a large selection of humorous greeting cards. Enormous selection of fine art supplies, scrapbooking and craft materials.
Mast General Store
63 N. Main St.
Discover all you need for life! Mast General Store is a unique downtown emporium featuring traditional fashions, comfortable footwear, outdoor and travel gear, rocking chairs, cast iron cookware, country gourmet foods, decorative home accessories, toys powered by imagination, and over 500 old-fashioned candies.
Firefly Cabin
26 N. Main St.
Furniture & home decor
High Country West
71 N. Main St.
Rustic elegance for your home
Sunburst Market
142 N. Main St.
The freshest trout in town, since they grow it at their farm! They also showcase other "homegrown" products and delectibles.
The Classic Wineseller
20 Church St.
Fine wine, beer, cheese, cigars.
Haywood Habitat for Humanity ReStore
331 Walnut St., Ste 1
Help Haywood Habitat build homes for families in need. The Habitat ReStore is a retail sales operation with the mission of recycling, reusing, and repurposing building materials and home furnishings. Donate or shop today!
Mountain Quilts
176 N. Main St.
Largest selection of quilts in WNC. We feature the top selling American designers at affordable prices. All sizes in stock. Quilted handbags, placemats, napkins, table runners, throw pillows, aprons, and lamps.
Home-Tech "The Kitchen Shop"
5 N. Main St.
Home Tech is Waynesville's own kitchen shop. Family owned and operated for 18 years, it is where those who love to cook or just love to eat can find everything from fine cookware, kitchen supplies, specialty gourmet foods, cookbooks, and a variety of home accessories. Featuring All-Clad, Cuisinart, Le Crueset, and Wusthof Knives. Our knowledgeable and friendly staff will be happy to assist you with your purchase. We have gifts for all occasions and we offer Bridal Registry services.
Pleasant Places
36 N. Main St.
We're for the birds! Shop in a relaxed atmosphere in downtown's own wild bird supply. From seed, feeders, and houses to garden accessories, we'll help you with your feathered friends while making your place in the mountains a little more relaxing.
Junque Room
24 Commerce St.
Antiques, books, collectibles, souveneirs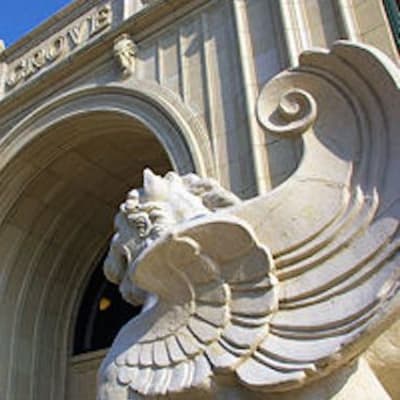 Downtown Asheville
A 30-minute drive from our bed and breakfast is downtown Asheville, a beautiful, bustling downtown with more that 200 locally-owned shops, 30+ art galleries and more than 50 restaurants. The city's rich architectural legacy with its mix of Art Deco, Beaux Arts and Neoclassical styles is the perfect retro-urban backdrop to the edgy energy that emanates from the galleries, distinctive restaurants and exciting entertainment venues. Known as an art colony, a healing resort and a home to notable luminaries, statesmen and bohemians, Asheville is one of the most welcoming, vibrant cities in America.
While many cities underwent major overhauls in past decades, Asheville's historic and architecturally diverse downtown remains beautifully preserved. Downtown Asheville is a rare place. Artists and street musicians converge with tourists and locals for a vibrancy rarely found in a city of this size. There is always something happening downtown. People sip cups of Joe at one of several locally-owned coffee shops, listen to live music at a local club. They go on art walks, winding their way through downtown's galleries. Shoppers inspect unique boutique finds, or people simply enjoy fine cuisine and people-watching.
The city is pedestrian friendly, with wrought-iron benches throughout downtown, and many eateries have open-air dining sections that allow visitors to enjoy the city's mild weather. In downtown Asheville, it is a pleasure - not a stress - to go shopping.
Downtown Shopping and Galleries
Grove Arcade - One of the most interesting and inviting spots for downtown shopping is the Grove Arcade. This renovated historic building is worth a visit to admire the architecture alone, but it's also a wonderful place to wander, shop or visit galleries. The dining options range from Chicago-style hot dogs to frozen custard, wine bars to coffee shops, upscale restaurants to sidewalk cafes. The area nearby the Grove Arcade is also lined with several shops and restaurants.
Asheville Downtown Gallery Association - There's a reason Asheville's arts scene is heralded again and again. In downtown Asheville, there are 30 galleries belonging to this organization alone. The group offers maps and self-guided tours, as well as City Center art walks. You can also find the works of 150 artists at Woolworth Walk in the heart of downtown Asheville.
Wall Street - This picturesque side street in downtown Asheville features a mix of unique shops Broadway to Biltmore - This corridor, with Broadway to one side of Patton Avenue and Biltmore to the other, is lined with several popular downtown Asheville shops and true local institutions like Mast General Store.
Lexington Avenue - This funky and eclectic neighborhood is the place to shop for the delightfully unexpected, from political bumper stickers to punk tee-shirts to new age books.
The most fascinating tour downtown is also the best value. For just a buck, tour the Thomas Wolfe Memorial State Historic Site, the novelist's boyhood home and setting for his 1929 novel "Look Homeward, Angel." In the nearby Montford Historic District, you can visit Riverside Cemetery, the final resting place for Wolfe and O. Henry.
The River Arts District, filled with dozens of working art studios, is one of the Asheville area's unique arts neighborhoods. Just minutes away, the River Arts District located along the French Broad River is home to an eclectic mix of contemporary and traditional artists. Studio strolls are offered twice a year, but visitors are welcome year-round to the funky, distinctive collection of studios housed in renovated warehouses. The Folk Art Center, on the Blue Ridge Parkway, showcases their work along with ongoing exhibits and demonstrations.
Attractions
Biltmore Estate is just a couple of miles from downtown Asheville. After a day of touring Asheville, return to peace and solitude at our bed and breakfast in Waynesville.
If you really want a unique way to see Asheville, consider Moving Sidewalk Tours for a guided,
Segway tour. Dina and I recently went on a 2-hour tour with our guide, Wes, leading the way. First of all, the Segways are really cool to use. They are alot easier to manuever than they look and give you a distinctive perspective of Asheville. The best part is, you can go just about anywhere on them. Secondly, they are whisper quiet and allow you to converse together just as if you are walking side-by-side. Lastly, they allow you to cover more of Asheville without making you feel worn out from all that walking. All you have to do is stand in one place, shift your body weight in the direction you want to go and the Segway does all the work! If you can maintain your balance on an escalator or "moving sidewalk" belt (like in large airports), you can definitely ride a Segway. We had a great time and we know you will, too!
Just mention Brookside Mountain Mist Inn when making your reservation and get $10 off per tour! When your Asheville adventure is over, come back home to a warm fire, a cozy room and a peaceful night's sleep at our Waynesville bed and breakfast, Brookside Mountain Mist Inn. Come for the scenery, stay for the adventure!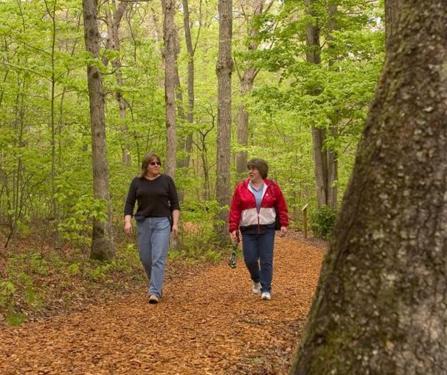 North Carolina Arboretum
Just as our experience of nature is intimate, visitors to The North Carolina Arboretum connect with plants in personal ways that are as diverse and rich as the land itself.
Whether you enjoy strolling through gardens, exploring exhibits, enriching your mind or hiking and biking, the Arboretum offers activities for all ages, including:
A 434-acre natural treasure with 65 acres of cultivated gardens and 10 miles of hiking and biking trails
Engaging indoor and outdoor exhibits that cultivate connections between people and plants
One of the finest, most unique bonsai collections in the United States at the Bonsai Exhibition Garden
Activities such as Discovery Day Packs and special events that delight the senses for all ages
Regional offerings and unique items at the gift shop
Enriching adult and youth education programs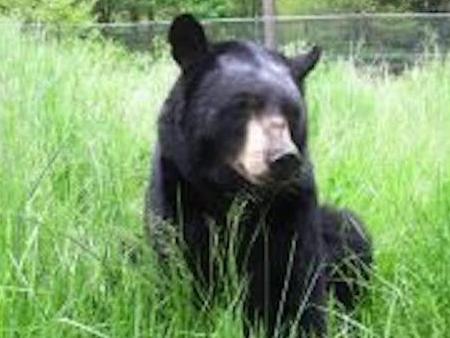 Western North Carolina Nature Center
What is now the Friends of the WNC Nature Center, a 501c3 non-profit charity, was formed as the "Western North Carolina Zoological Society" in October 1974, and with the Center staff, developed the mission statement: to educate the public about the natural history, flora and fauna of the Southern Appalachians and to develop public responsibility for its conservation. The Center is now home to over sixty species of wild and domestic animals and hundreds of species of plants, all representative of this unique bio-region, the Southern Appalachians. The Center is currently operated by the City of Asheville Parks, Recreation and Cultural Arts Department.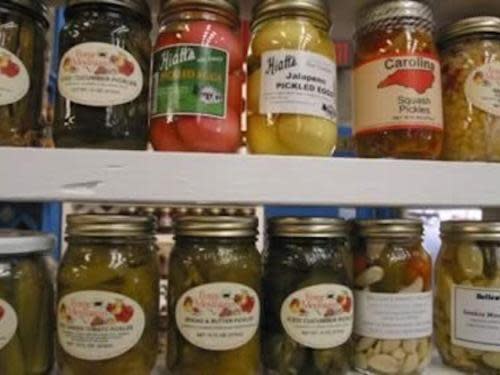 WNC Asheville Farmers' Market
This market is conveniently near downtown Asheville, N. C., and between two major Interstate Highways. We are on a thirty-six-acre site with a beautiful panoramic view of the mountains, and the Biltmore Estate. The market was first opened in 1977, and is now open all year round, and seven days a week. The public is invited to come here and enjoy the atmosphere and character of the mountains. Admission is FREE.
Our retail area features displays of high quality fruits and vegetables, mountain crafts, jams, jellies, preserves, sourwood honey, fresh baked breads, cookies and dozens of other farm fresh items. Inside you will also find a deli that offers sandwiches and ice cream. These buildings are open daily 8:00 a.m. to 6:00 p.m., April-October; 8:00 a.m. to 5:00 p.m., November-March.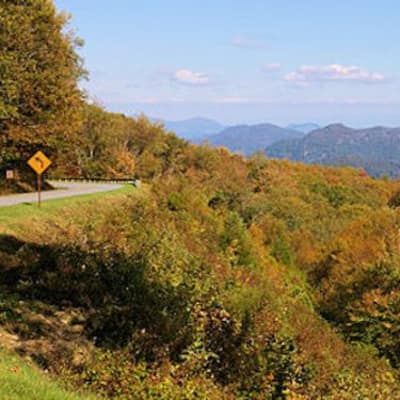 Blue Ridge Parkway
Just a few miles away from our Waynesville bed and breakfast is the Blue Ridge Parkway, one of the most scenic drives in the county. A drive down the Blue Ridge Parkway is slow paced and relaxing with non-stop natural beauty. There are many places to stop along the way. Almost any overlook or hiking trail reveals much of the natural and cultural history here. While many people think of the Blue Ridge Parkway just as a motor road, it is also a place of varied and significant natural resources and part of the National Park Service. The Parkway follows the high crests of the central and southern Appalachians for 469 miles from Shenandoah National Park in Virginia to the Great Smoky Mountains National Park in North Carolina. The Parkway provides wonderful opportunities for:
Wildflowers & Fall Colors - The Parkway provides an excellent location for both wildflower walks in the springtime and brilliant leaf color in the autumn. May is probably the best month for wildflowers. Look for Rhododendron in mid June!
Photography - The combination of historical and natural areas make the park an excellent destination for photographers.
Historical and Cultural Demonstrations - Several developed areas offer hands-on demonstrations of mountain life and culture.
Ranger Guided Walks and Evening Programs - During the summer season, most developed areas offer evening programs, or more traditional campfire programs, along with guided walks and special programs.
Birdwatching - Because the Appalachian Mountains shape the flyway for most eastern migratory birds, the Parkway is an excellent place for both birdwatching and autumn migratory bird counts.

Here is a convenient list of the important spot along the Parkway, arrange by mileage beginning in Asheville and ending at the Great Smoky Mountains National Park:
Milepost 382 The Folk Art Center offers sales and exhibits of traditional and contemporary crafts of the Appalachian Region. Interpretive programs are offered in addition to a gallery and library. Mountains To The Sea Trail and Shut-In Trail.
382.6 U.S. 70, right 5 mi. to Oteen and Asheville; left 9 mi. to Black Mountain. Food and lodging available nearby in either direction.
384.7 U.S. 74, right 5 mi. to Asheville; left 17 mi. to Bat Cave
388.85 U.S. 25, right 5 mi. to Asheville; left 16 mi. to Hendersonville. Nearby; Biltmore House
393.6 N.C. 191 & 280, right 9 mi. to Asheville. Nearby; North Carolina Arboretum. Gardens and Trails. Go North on 191 about 1/4 mile. Follow signs.
Blue Ridge Parkway397.1 Grassy Knob Tunnel, 600ft. long
399.3 Pine Mountain Tunnel,1320 ft. long
400.9 Ferrin Knob Tunnel No.1, Trace Ridge, 360 ft. long
401.3 Ferrin Knob Tunnel No.2, 310 ft. long
401.5 Ferrin Knob Tunnel No.3, 230 ft. long
403.0 Young Pisgah Ridge Tunnel, 400 ft. long
403.9 Fort Mountain Tunnel, 350 ft. long
406.9 Little Pisgah Tunnel, 500 ft. long
407.4 Buck Springs Tunnel, 380 ft. long
407.6 Mount Pisgah parking area. Mt. Pisgah Trail and Buck Springs Trail. Mount Pisgah was part of the Biltmore Estate. The estate became home of the first U.S. forestry school and the nucleus of the Pisgah National Forest. For much more in-depth information on things to see and do in this area of the Pisgah National Forest, also visit our Pisgah Forest section.
408.6 Mount Pisgah Inn restaurant
410.1 Frying Pan Tunnel, 275 ft. long
411.85 Cold Mountain parking overlook, elev. 4542 (See hiking)
411.9 U.S. 276, right 22 mi. to Waynesville; left 17 mi. to Brevard. Nearby: towards Brevard to Cradle of Forestry, Sliding Rock, Looking Glass Rock, Looking Glass Falls and Pisgah Center for Wildlife Education. (See waterfalls)
417.05 Looking Glass Rock parking overlook (See hiking)
418.8 Graveyard Fields parking overlook (See hiking)
420.2 Balsam Spring Gap, elev. 5550. U.S.F.S. road (gated) right. Access to Black Balsam Knob area of Pisgah NF and Shining Rock Wilderness. (See hiking)
422.1 Devils Courthouse Tunnel, 650 ft. long
422.4 Devil's Courthouse parking overlook, elev. 5462. Trail. S. Devil's Courthouse is a rugged exposed mountain top rich in Cherokee legends. A walk to the bare rock summit yields a spectacular view of Pisgah National Forest. (See hiking)
423.2 Beech Gap, elev. 5340. Right 23 mi. to Waynesville; left 17 mi. to Rosman
423.5 Courthouse Valley parking overlook, elev. 5362
423.7 Tanassee Bald
431.0 Haywood-Jackson parking overlook, elev. 6020. Self guiding trail. Richland Balsam's self-guiding trail takes you through a remnant spruce-fir forest.
431.4 Richland Balsam parking overlook, highest point on Parkway, elev. 6050
439.7 Pinnacle Ridge Tunnel, 750 ft. long
443.1 Balsam Gap, elev. 3370. U.S. 19A & 23, right 8 mi. to Waynesville. **Entrance nearest to Brookside Mountain Mist Inn & Cottages**
451.2 Waterrock Knob parking overlook, Waterrock Knob provides a panorama of the Great Smokies and 4 states. A trail, exhibits, and a comfort station are available. (See hiking)
455.7 Soco Gap, elev. 4340. U.S.19, right 8 mi. to Dellwood; left 12 mi. to Cherokee
458.2 Wolf Laurel Gap, elev.5100. S. Heintooga Ridge spur road goes to a mile-high overlook 1.3 miles from the parkway.
458.8 Lickstone Ridge Tunnel, 402 ft. long
459.3 Bunches Bald Tunnel. 268ft. long
461.2 Big Witch Tunnel, 348 ft. long
465.6 Rattlesnake Mountain No.4 Tunnel, 410 ft. long
466.25 Sherill Cove No.6 Tunnel,572 ft. long
469.1 End of Blue Ridge Parkway. U.S. 441, left 2 mi.to Cherokee, N.C. Southern End of the Blue Ridge Parkway intersects with U.S. 441 in the Great Smoky Mountains National Park and the Cherokee Reservation.

After a day of riding on the Blue Ridge Parkway, return to our bed and breakfast inn in Waynesville, North Carolina for a night of luxury accommodations.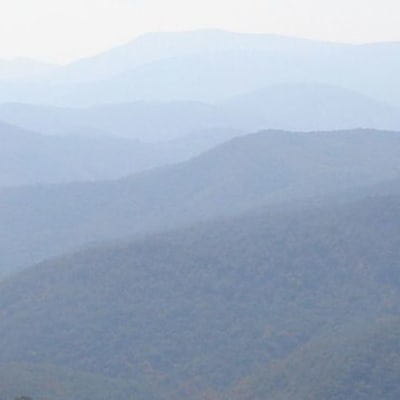 Great Smoky Mountains National Park
There are four entrances to the Great Smoky Mountains National Park from the North Carolina, a short drive from our bed and breakfast in Waynesville. Ridge upon ridge of forest straddles the border between North Carolina and Tennessee in Great Smoky Mountains National Park. World renowned for its diversity of plant and animal life, the beauty of its ancient mountains, and the quality of its remnants of Southern Appalachian mountain culture, this is America's most visited national park. From black bears to salamanders. Old-growth forests to spring wildflowers. Log cabins to grist mills. The Smokies offer a myriad of opportunities for exploring and discovering both the natural and cultural history of these ancient mountains.
Great Smoky Mountains National Park is a hiker's paradise with over 800 miles of maintained trails ranging from short leg-stretchers to strenuous treks that may require backcountry camping. But hiking is not the only reason for visiting the Smokies. Fishing, picnicking, wildlife viewing and auto touring are popular activities.
Most visitors come to the Smokies hoping to see a bear. Some 1,500 bears live in the park. From the big animals like bears, deer, and elk, down to microscopic organisms, the Smokies have the most biological diversity of any area in the world's temperate zone. The park is a sanctuary for a magnificent array of animal and plant life, all of which is protected for future generations to enjoy.
Here are the four areas in the Great Smoky Mountains that are closest to our Waynesville bed and breakfast:
Elk at Cataloochee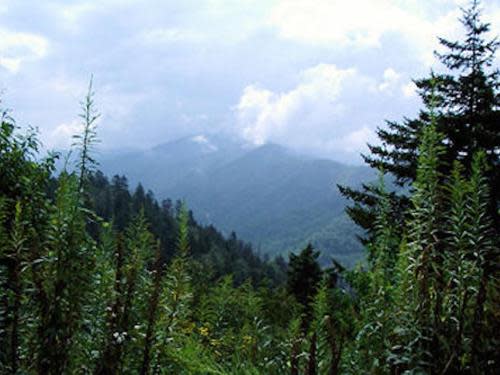 Less than 20 miles away is the Cataloochee area of the Smokies. The experimental release of elk into Great Smoky Mountains National Park began in 2001 with the importation of 25 elk. In 2002, the park imported another 27 animals. Most of the elk are located in the Cataloochee area in the southeastern section of the park and can often be seen from your car. Access requires driving two miles on a narrow gravel road, but it is well-maintained and passable for standard passenger vehicles. To get there from I-40, exit at North Carolina exit #20. After 0.2 mile, turn right and follow the signs 11 miles into Cataloochee Valley.
Oconaluftee
An easily 27-mile drive from our bed and breakfast is Oconaluftee, offering both a visitor center and the Mountain Farm Museum—a collection of historic log buildings gathered from throughout the Smoky Mountains and preserved on a single site. It's just a couple of miles outside of Cherokee on U.S. Highway 441, the only road to completely cross the National Park, taking you to Gatlinburg, Tennessee. You should drive up to Newfound Gap to enjoy the views.
At the Oconalutfee visitor center, rangers can answer your questions about the park and there is a bookstore with a broad selection of guides, maps, and other products. The Mountain Farm Museum includes a log farmhouse, barn, apple house, springhouse, and a working blacksmith shop that gives a sense of how families may have lived 100 years ago. Most of the structures were built in the late 19th century and were moved here in the 1950s. The museum is adjacent to the Oconaluftee Visitor Center. Two excellent walking trails start from the vicinity. The Oconaluftee River Trail follows its namesake stream for 1.5 miles to Cherokee. Mingus Creek Trail climbs past old farms to the Smokies high country. The easy, 1.5 mile Oconaluftee River Trail begins near the entrance to the museum.
A half-mile north of the Oconaluftee Visitor Center is Mingus Mill. Built in 1886, this historic grist mill uses a water-powered turbine instead of a water wheel to power all of the machinery in the building. Located at its original site, Mingus Mill stands as a tribute to the test of time. Hours: 9:00 AM - 5:00 PM daily mid-March through mid-November.
A trip over the Newfound Gap Road has often been compared to a drive from Georgia to Maine in terms of the variety of forest ecosystems one experiences. Starting from either Cherokee, travelers climb approximately 3,000 feet as they drive, ascending through cove hardwood, pine-oak, and northern hardwood forest to attain the evergreen spruce-fir forest at Newfound Gap (5,046').
Temperatures at the gap may be 10° F. or more cooler than in the lowlands and precipitation falling as rain in Cherokee may be snow at Newfound Gap. From the parking area at Newfound Gap you can straddle the state line between North Carolina and Tennessee or take a stroll on the Appalachian Trail, a 2,200 mile footpath running from Georgia to Maine.
Just south of Newfound Gap, the seven-mile Clingmans Dome Road climbs to within 0.5 mile of Clingmans Dome (6,643'), the highest peak in the Smokies (and third highest in the East). From the large parking area at the end of the road, a 0.5-mile trail climbs steeply to an observation tower at the "top of old Smoky."
Deep Creek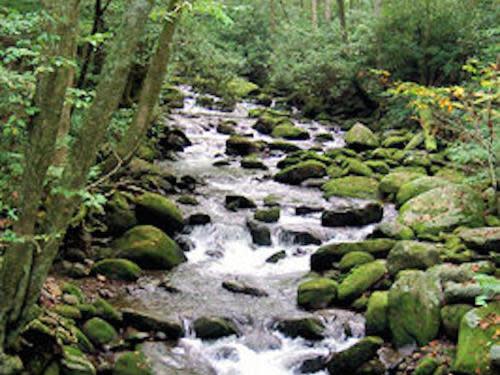 About 35 miles away near Bryson City is the Deep Creek area of the Great Smoky Mountains, celebrated for its streams and waterfalls. Hikers can choose from several loop hikes leading to the waterfalls. Mountain bikers can take advantage of one of the few park trails where bicycles are permitted. Around two miles of walking will acquaint you with beautiful Deep Creek and three pretty waterfalls. Deep Creek area loop hikes include Juney Whank Falls (0.6 mile), Three Waterfalls Loop (2.4 miles), and Deep Creek-Indian Creek Loop (4.4 miles). Longer loop hikes are also possible. Trails to the waterfalls start from the large parking area at the end of Deep Creek Road (across the creek from Deep Creek Campground).
After a day of exploring the Great Smoky Mountains National Park, return to our luxury bed and breakfast accommodations in Waynesville, North Carolina.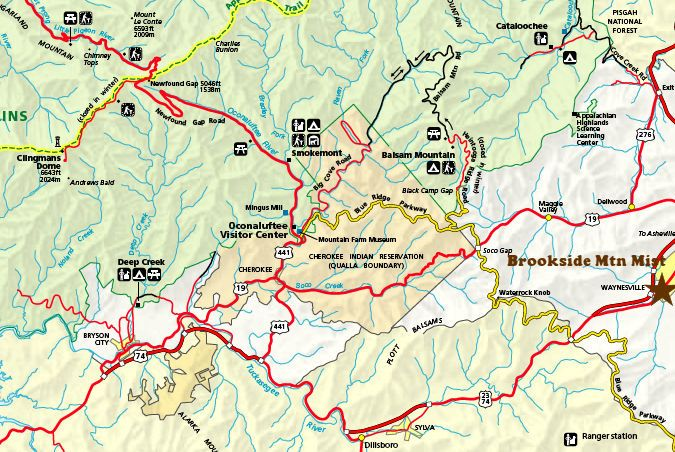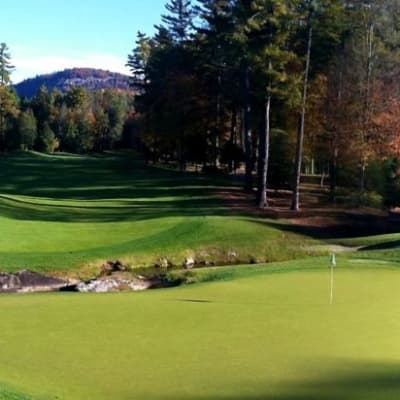 Golfing
North Carolina Mountain Golf
This is plenty of golf on beautiful golf courses near our bed and breakfast in Waynesville in the mountains of North Carolina. Here are our top three choices:
Waynesville Country Club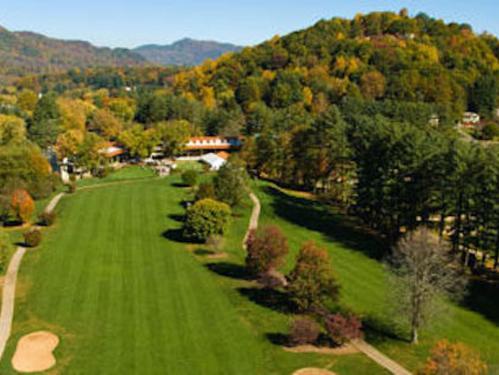 This picturesque 27-hole golf course at Waynesville Country Club is next door to our bed and breakfast. It consists of three separate and distinct par 35, 9 hole courses that start and finish at the clubhouse. There are three starting tees, making each 9 holes play from as little as to 2245 yards to as much as 2969 yards. Blue junipers clearly mark 150 yards to the center of their painstakingly manicured bent grass greens.The three nine hole courses can be played in three eighteen hole combinations. The Blue Ridge Course is a more mountainous and scenic layout than the other courses. The fairways are hilly, but somewhat open, and the large greens are well bunkered. There are water hazards (three ponds) that come into play on five holes. The Carolina Course (Donald Ross designed) is the flattest of the three nines and a portion of it was part of the original nine. Two ponds come into play on four holes, and the fairways are mostly straightaway. The newly built Dogwood Course is the shortest nine. Three ponds come into play on three holes. There are three dogleg fairways, and the predominantly small greens are undulating. This is also the narrowest nine. These courses provide enough variety of terrain to challenge any skill level.
Laurel Ridge Golf and Country Club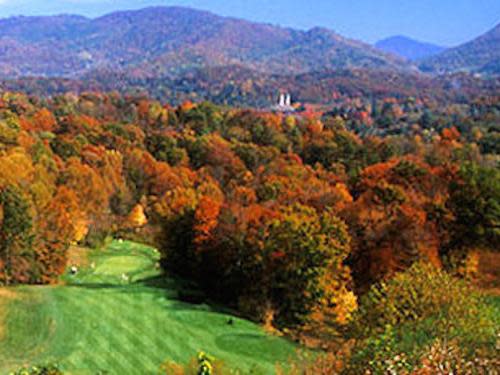 Laurel Ridge Golf and Country Club is just a few miles away. This spectacular Bob Cupp designed course features magnificent golf and mountain views. The course features bent grass and 18 holes of championship golf. Fast, undulating greens, lush tree-lined fairways and spectacular panoramic views highlight the course. Opened in 1986, the course was designed and sculpted by Robert Cupp, Jack Nicklaus' chief designer for 14 years. The contour of the land, flowing streams, reflective ponds, sand and grass bunkers are all masterfully designed to give each hole its own unique character and challenge. The course offers every challenge expected of a mountain course, yet does it with a delicate balance of fairness and playability. The scratch golfer can bite off as much of a challenge as he can chew from the back tees at 6904 yards, while four other sets of tees, blue at 6551 yards, white at 6093 yards, green at 5174 yards and gold at 4408 yards, allow golfers to choose positions based on their level of play.
Lake Junaluska Conference and Retreat Center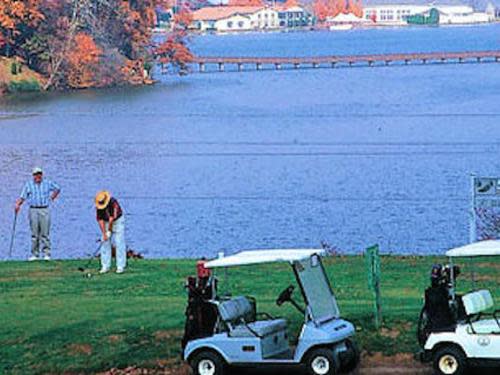 Enjoy a round of golf at Lake Junaluska's lakeside retreat. This short eighteen hole course (5034 yard par 68) can be quite demanding because of all the trees that can affect your shots and the water hazards that come into play on key holes. Three of the fairways are doglegs, but all of them are wide open. The signature hole is #3, requiring an downhill tee shot from off an elevated tee box, then an approach shot over a stream to an elevated green. Horris Smith designed the additional nine holes in 1994.
After a day of playing golf in the North Carolina mountains, return to our Waynesville bed and breakfast for luxury accommodations.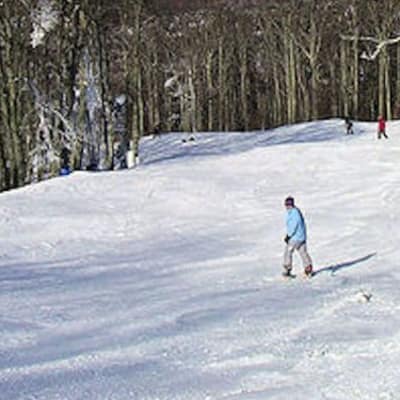 Maggie Valley & Cataloochee Ski
Maggie Valley & Cataloochee Ski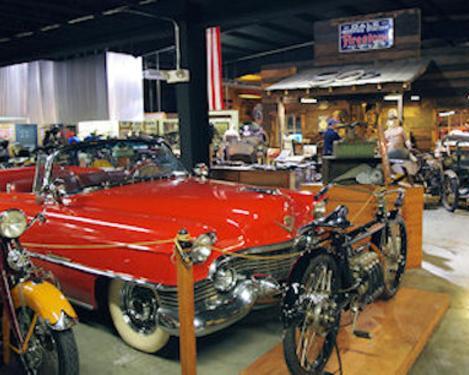 Less than 10 miles from our bed and breakfast is Maggie Valley, a favorite mountain resort town for families for many years.
There are plenty of locally-owned shops to browse. You won't find a shopping mall with the usual lineup of trendy stores here. What you will find are one-of-a-kind boutiques and specialty shops, art galleries, and plenty of places to recharge by sampling the perfect piece of fudge or relaxing on the porch with a tall glass of iced tea – sweet, of course. Here are a few of the attractions there:
Maggie Valley Opry House features traditional bluegrass and mountain music, featuring banjo picker, the legendary Raymond Fairchild, preserving the mountain culture and keeping the mountain heritage alive through the music of Appalachia. May - October
Wheels Through Time Museum is home to the world's premier collection of rare American Vintage Motorycles. Located 5 miles from the Blue Ridge Parkway, in beautiful Maggie Valley, NC, this All-American motorcycle museum houses over 300 of America's rarest and most historic classic motorcycles, with over 24 marques on display, including the likes of Harley-Davidson, Indian, Excelsior, Crocker, Henderson, and much more. Western North Carolina's premier museum and tourism attraction features dozens of motorcycle-related exhibits, ranging from board track racers, hillclimbing, and original paint machines to American Dirt Track racing, choppers and bobbers, and one-of-a-kind motorcycles.
See Video of Wheels Through Time Museum
Slinging In The Smokies is a great way to explore the Blue Ridge Parkway and surrounding area. Rent a Slingshot from Cabbage Rose in Maggie Valley at 3388 Soco Road. Call them at 828-926-3079 to reserve your Slingshot adventure in the Smokies!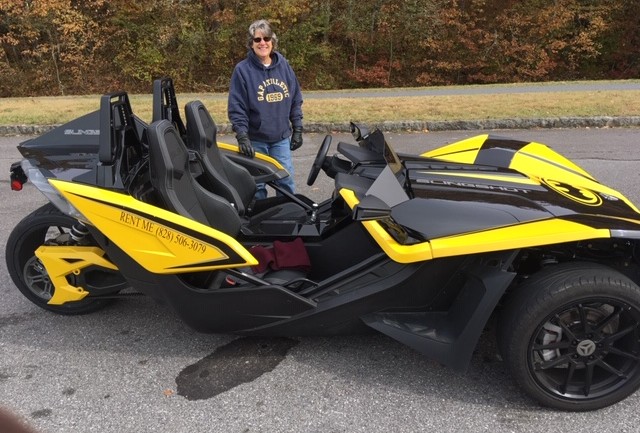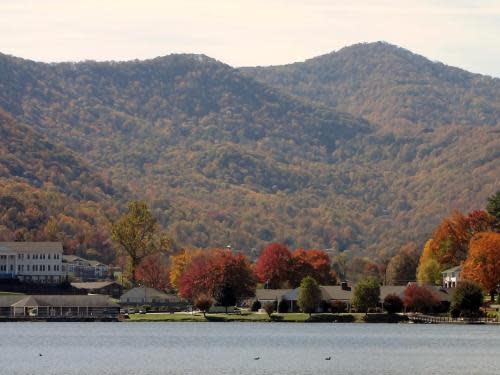 Lake Junaluska: Since 1913, Lake Junaluska Conference & Retreat Center has been the home of thousands of enriching events and worship services. Each year over 150,000 people experience Lake Junaluska through the United Methodist Church ministry programs, church retreats, Annual Conferences and countless other events. Our bed and breakfast inn is a short drive away!
Cataloochee Ski Area, located on Moody Top Mountain in Maggie Valley, North Carolina. With 10 ski trails, served by five lifts offers a secluded ski school area for easy and fun learning for children, and a large tube park with conveyor lift. Smooth, gentle slopes like Easy Way and Rabbit Hill, serviced by a triple chairlift, gives beginners the elbowroom they need to learn the basics and practice their skills. Intermediate skiers and snowboarders find plenty of action on Rock Island Run and Lower Omigosh, while seasoned experts can face the steepness found on Upper Omigosh. For skiers and snowboarders looking for a thrill, our Cat Cage Terrain Park delivers with ramps, rails and boxes. They take snowmaking seriously. When temperatures drop below freezing, their snowmaking team goes to work creating a blizzard that rivals Mother Nature's best efforts. After a session on the mountain, you can relax with family and friends in front of the lodge's double-sided fireplace. There's nothing better than swapping stories about the day's adventures on the slopes while enjoying the lodge's good food and an aprés-ski drink. You might even catch a local bluegrass band playing. Don't forget to stop in the lodge's gift shop to pick up your favorite Cataloochee gear before you head down the mountain.
See video of Cataloochee Ski Area
See the events calendar of Maggie Valley for up-to-date details regarding events, festivals and activities.
After a fun-filled day at Maggie Valley, return to Brookside Mountain Mist Inn & Cottages, our bed and breakfast in Waynesville, for a peaceful night's sleep in luxury accommodations.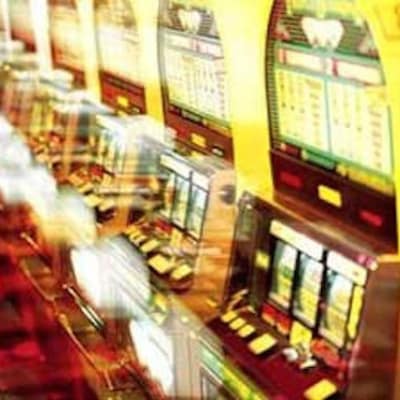 Cherokee & Harrah's Casino
About 25 miles from our bed and breakfast is Cherokee, home of the Eastern Band of Cherokee Indians. The village itself has many souvenir shops and stores that carry Cherokee Indian pottery, baskets and beadwork; as well as other locally made gifts such as dream catchers, dolls and woodcrafts. You'll also find variety of home furnishings, hand-painted and rustic furniture, jewelry, leather goods and unique gift items available throughout Cherokee.
Cherokee Indian Reservation, where Cherokee Indians have lived for centuries, is located on the border of the Great Smoky Mountains National Park. The 56,000 acre Reservation is still linked to ancient customs, culture, history, and traditions.
The Museum of the Cherokee Indian takes visitors all the way back to the beginnings of human existence here in these glorious, storied mountains of western North Carolina. The museum provides an educational and interactive experience where concise, chronological stories retrace the 11,000 year documented history of the Cherokees. This is a Museum in which the Eastern Band of Cherokee Indians present themselves and their history according to their own firsthand point of view. It uses modern technology, computer-generated imagery, and special effects to present some of the oldest technologies in existence, as embodied by the most extensive collection of Cherokee artifacts anywhere.
Harrah's Casino The biggest attraction in town is the huge Harrah's Cherokee Casino with 24-hour action. It features live tables, video gaming machines with plenty of slots and video poker and blackjack, great restaurants, live entertainment and shopping. The casino is owned by the Eastern Band of Cherokee Indians and operated by Harrah's Entertainment.
Oconaluftee Indian Village is an authentic replica of an 18th century Cherokee community. Cherokee guides explain the history, culture and life-style of their ancestors. Watch Cherokee craftsmen demonstrate their skill in making arrowheads, baskets, blowguns, beaded belts, ceremonial masks, dugout canoes, pottery, and wood cravings. You'll also enjoy the replica of a 7-sided Council House and typical Cherokee homes as they were 250 years ago. Adjacent to the Village is the mile-long Nature Trail that provides visitors the opportunity to walk through the woods and see a variety of trees, plants and flowers indigenous to the western North Carolina area. Open May - October.
One of the most compelling outdoor dramas, Unto These Hills, tells the tragic story of how the Cherokee ancestors were forcefully driven out of the Great Smoky Mountains and marched 1,200 miles to Oklahoma. You will never forget how Tsali gave his life as sacrifice, so that a handful of his people could remain on the land of their heritage. June - August.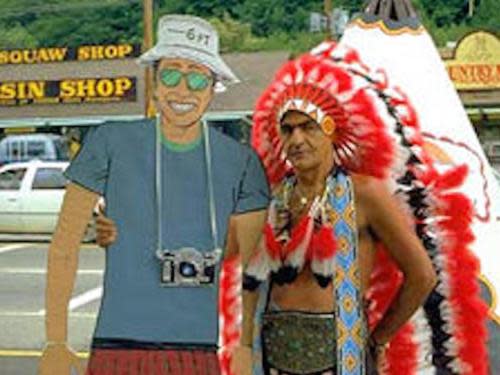 Visitors who come to Cherokee and the Qualla Boundary in search of authentic Cherokee art and crafts can find top-quality handmade work at the Qualla Arts and Crafts Co-op gallery and shop. Baskets, pottery, woodcarving, bead work, jewelry, masks, dolls and other items of Cherokee traditional art are for sale, and photos of the artists at work are displayed in the exhibit room.The non-profit co-op provides a place for Cherokee artists and craftspeople to market their creations. In so doing, it also encourages the preservation of the many craft traditions and promotes the quality of Cherokee traditional work. The co-op has become a place of education as well, with members conducting workshops for other Cherokee artists.
As the beautiful Oconaluftee River winds through downtown Cherokee, it creates two small islands accessible by footbridges. Oconaluftee Islands Park is a lovely place to relax, take a leisurely stroll, listen to our talking trees, or enjoy a picnic lunch. There are plenty of benches, picnic tables, grills and covered shelters for your convenience.
After a day of exploring Cherokee and Harrah's Casino, return to our nearby bed and breakfast for a peaceful night's rest.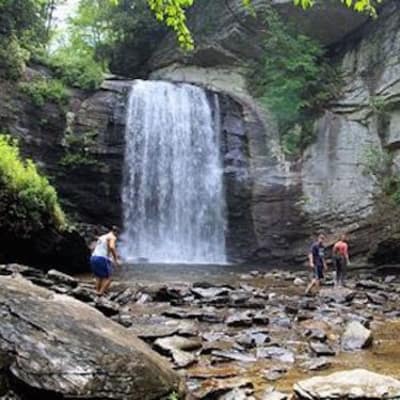 Waterfalls
Waterfalls in the NC Mountains
Since this is the "Land of Waterfalls," there are many waterfalls to see near our bed and breakfast near Asheville, North Carolina. Here are some of our guests' favorites:


Looking Glass Falls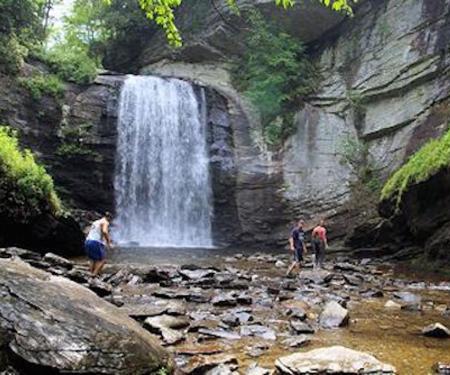 Looking Glass Falls is one of the most popular falls in Western North Carolina. The name "Looking Glass" comes from Looking Glass Rock, where water freezes on its sides in the winter and then glistens in the sunlight like a mirror or looking glass. Looking Glass Creek, which flows past the rock, is also named for the impressive natural structure. Its easy accessibility makes Looking Glass Falls a popular spot for travelers along U.S. 276 near Brevard. The falls are 60 feet tall. You can enjoy a view of the waterfall from the parking area, or you can take the stairs down to the base of the falls and even go for a dip!
From Waynesville, take U.S. 276 South (Heritage Scenic Byway) toward Brevard. Looking Glass Falls is 9.2 miles past the Blue Ridge Parkway.
See video of Looking Glass Falls

Graveyard Fields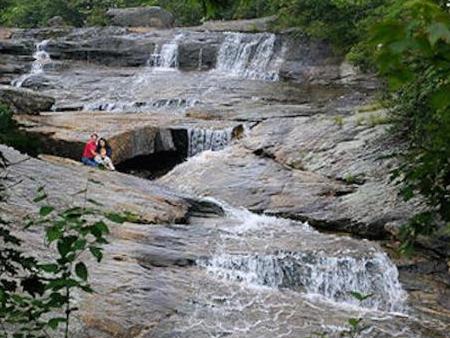 Graveyard Fields on the Blue Ridge Parkway, is one of the most popular hiking areas in the our area. The Yellowstone Prong of the Pigeon River flows through this high, flat mountain valley, with three stunning waterfalls along its way. It's at MP 418 on the Parkway. You can't miss it - the parking lot is good size, but will be overflowing on a nice weekend. The area got it's name years ago from the tree stumps and surrounding trees that looked like grave stones in a graveyard setting. Second Falls is easy to get to. From the parking area, head down the stairs on the north end of the lot and take the paved path a short ways down to Yellowstone Prong. The waterfall isn't too far downstream and you can follow the rocks to the top of the falls. Or, take the bridge across and follow the path down to the base area of the falls. There's a viewing platform for the falls or you can get a closer look from the boulders at the base of the falls.

Sliding Rock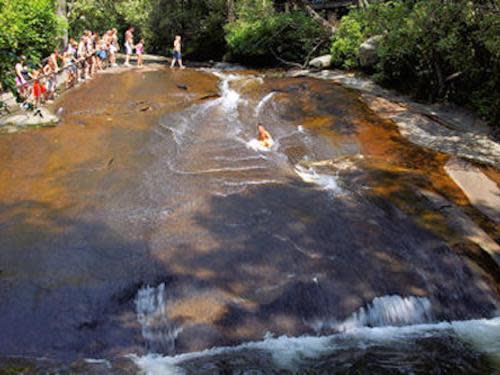 Sliding Rock is a naturally occurring 60-foot waterslide with a seven-foot deep pool that has been developed by the US Forest Service into a recreation area. Sliding Rock is extremely popular on hot summer weekends. You can either slide yourself or watch others do it from one of the observation areas. There is a small fee to enter the recreation area. The recreation area is open year-round, but the bathrooms and changing rooms are only open from Memorial Day to Labor Day. Lifeguards are on duty during that time as well. Directions: Take U.S. Highway 276 South from Waynesville toward Brevard. Sliding Rock is about six miles past the Blue Ridge Parkway.
See video of Sliding Rock Falls

Dupont State Forest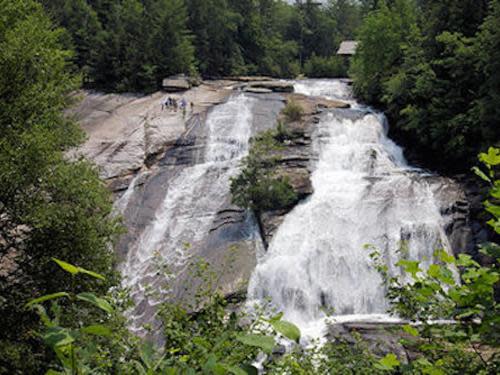 A three-mile roundtrip hike takes you to three beautiful waterfalls. From the parking area, take a short walk to the right to Hooker Falls. There is a observation area above the falls, and you can continue on the trail to reach the base of the falls. From Hooker Falls, turn around and go past the parking area (and across the road bridge to the other side of the river) and follow the trail upstream to the more impressive Triple Falls and High Falls. About 1/2 mile from the parking area, you will arrive at an overlook for Triple Falls. Just past the overlook, a trail forks off to the left and head down to land on a large rock area below the top two falls and atop the third. A great place to have a picnic or get some sun. From Triple Falls, continue on the High Falls Trail, the largest waterfall. Once again, take a trail to the left to land at the foot of the falls. Be careful, there are some slick rocks near the base.
These falls are about 50 miles from Brookside Mountain Mist Inn & Cottages, but it's worth the trip. The drive down U.S. 276 (Heritage Scenic Byway) is beautiful, but is very curvy and many ups and downs. So allow at least two hours to drive. Along the way, you will see many places you may want to stop, including Looking Glass Falls. Get directions and read more: Dupont State Forest.
See video of Dupont State Forest
See more North Carolina mountain waterfalls nearby. After a day of seeing the beautiful waterfalls, return to our luxury bed and breakfast inn near Asheville in the quiet town of Waynesville.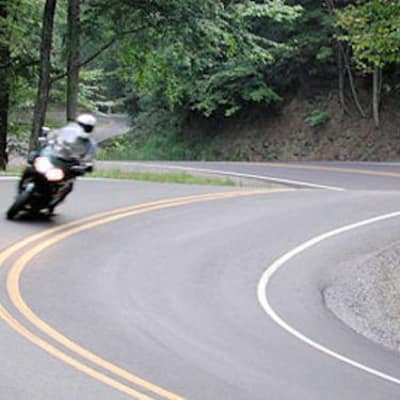 Scenic Drives
for Motorcycles & Sports Cars
Cherohala Skyway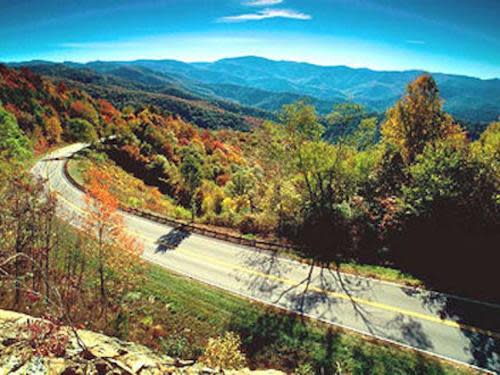 The Cherohala Skyway was completed in the fall of 1996 after being under construction for some 34 years. It is North Carolina's most expensive highway carrying a pricetag of $100 million. Winding up and over 5,400 foot mountains for 15 miles in North Carolina and descending another 21 miles into the deeply forested backcountry of Tennessee. The road crosses through the Cherokee and Nantahala National Forests thus the name "Chero...hala". The Skyway is becoming well known in motorcycling and sportscar circles for it's long, sweeping corners and scenic views.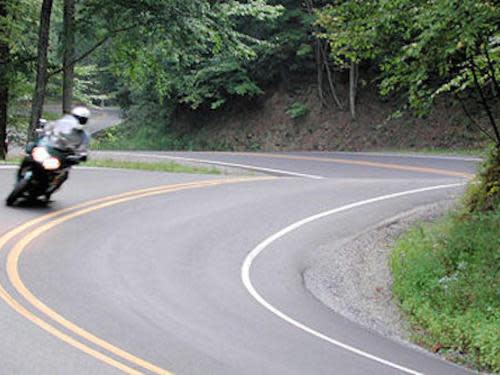 The North Carolina mountain roads near our Waynesville bed and breakfast provide lots of curves and scenic views for motorcycle and sports car drivers. If you do not live in North Carolina, always remember that helmets are required for operators and passengers and the headlight must be on anytime a motorcycle is in motion. For your convenience, we have a garage at our Waynesville, biker- friendly B&B where you park your motorcycle (holds up to 10)! Gryphon Bikes in Maggie Valley offers harley motorcycle rentals of new and late model Harley-Davidsons by the day, along with three and seven day packages for your stay in the Great Smoky Mountains. While in Maggie Valley, don't miss the amazing Wheels Through Time Museum.
Blue Ridge Parkway
Just a few miles from our motorcycle friendly B&B is the Blue Ridge Parkway, what Motorcyle.com calls "the greatest ride east of the Mississippi:" Jack Cofano writes:
"Ok, picture this. You're on a bike, leaning into curve after curve, mile after mile. You're in the mountains, sometimes above the clouds. The curves keep on coming. Next thing you know you're going through an unlit tunnel. (ensuring you play the concert of those drag pipes a little) There is no sign of civilization other than an occasional vehicle, and the only thing that changes is the altitude. You've ridden 20, 40, 80 miles and it's more of the same. Don't wake me up, it must be a dream. It's not. It is what you would experience if you rode the Blue Ridge Parkway."
Tail of the Dragon
About 70 miles from the our biker-friendly bed and breakfast are two more musts for great rides. Perhaps the most famous drive in the East is The Tail of the Dragon at Deals Gap with 318 curves in 11 miles. It's called America's number one motorcycle and sports car road. The nearby Cherohala Skyway is quickly becoming number two with its remote 60 miles of scenic North Carolina mountain highway.
Crossing Deals Gap at the Tennessee/North Carolina state line, the Dragon is considered by many as one of the world's best motorcycling and sports car roads. Anyone looking for an exciting highway will enjoy this stretch of US 129.
The Tail of the Dragon begins on the North Carolina side at Fugitive Bridge with a view of the Cheoah Dam where Harrison Ford jumped in the movie The Fugitive. It ends 14 miles across the mountain at the Tabcat Creek Bridge in Tennessee. US 129 climbs through The Slide, a steep series of "S" curves where one would not want to meet a tractor-trailer. The road then levels and straightens until a series of curves approaching the Crossroads of Time, one of the main hangouts for cyclists. Next comes Deals Gap and the Tennessee State Line.
Tail of the DragonThe road is desolate and can be a real adventure in the winter months. Drivers deal with bears, turkeys, deer, and wild boars in the road, trees down, ice/snow, and tractor-trailers taking-up both lanes in the curves. It is not a road for the squeamish, but if you're looking for a little excitement don't miss this one. Like any public highway there is enforcement at times. The speed limit is 30 mph, so stay within reason.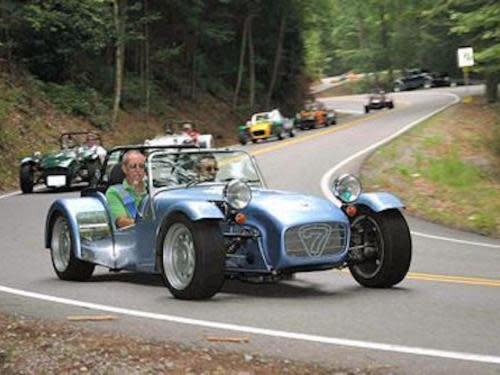 On summer weekends, the Dragon may get 15,000 motorcycles and sport cars a day. It's certainly a favorite with sport car clubs. Many of the Dragon's curves have names: the Pearly Gates, Thunder Road Bend, Carousel Corner, the Whip, Brake or Bust Bend, the Wall, the Hump, Little Whip, Crud Corner, Shaw Grave Corner, Gravity Cavity, Horns of the Dragon and Hog Pen Bend.
For the latest updates on the Tail of the Dragon, go tailofthedragon.com.
This road enthusiast's dream connects Robbinsville, North Carolina with Tellico Plains, Tennessee. It can be desolate at night and extremely dangerous in the winter months. There are no facilities other than restrooms for the entire 36 miles so make sure you have enough gas to make the crossing. There is little evidence of civilization from views that rival or surpass any from the Blue Ridge Parkway.
The elevations range from 900 feet above sea level at the Tellico River in Tennessee to over 5,400 feet above sea level at the Tennessee-North Carolina state line at Haw Knob. The Cherohala Skyway Visitor Center in Tellico Plains is a "must stop" on the Cherohala. Stop by for free maps, Skyway driving conditions and local area souvenirs and gifts. Picnic tables and spotless restrooms are available.
After an exciting day of motorcycle riding and sports car driving, return to luxury accommodations at our bed and breakfast in Waynesville!
Outdoors
Outdoor Activities Near Brookside
If you love the outdoors, you may be overwhelmed with the options near our Waynesville bed and breakfast. The Blue Ridge and Great Smoky Mountains offer some of the most beautiful scenery in the country. And much of the area is preserved for your enjoyment. Fourteen of the mountains in Haywood County are over 6,000 feet in elevation, the most of any county in the East! The famous Cold Mountain is nearby. The Blue Ridge Parkway meanders through our county along 46 miles of the highest ridges in the Appalachians.
Birding is the fastest growing outdoor activity in America. We draw hundreds of species to the inn with multiple bird feeders around the property. In addition, thousands more species can be observed in the wild at the Smoky Mountain National Park or driving on the Blue Ridge Parkway.
Here are some of our guest's favorite outdoor activities and where to enjoy them:
Whitewater Rafting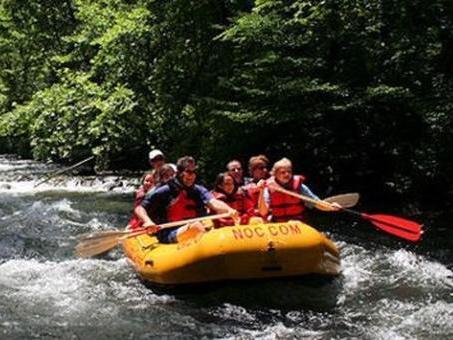 For some great whitewater rafting, drive just 35 miles from our bed and breakfast to Nantahala Outdoor Center to take a fun ride down the Nantahala River on a raft or kayak. Nestled in a steep gorge, the Nantahala River shimmers through its mild but exciting rapids. The Nantahala offers eight miles of practice on easy Class II rapids before splashing through the exciting Class III whitewater of Nantahala Falls. This river is one of America's most popular whitewater runs. You can sign up for a fully guided trip. Or if you are experience, you can rent a raft for your own trip. At NOC, you will find a great Outfitter's store, general store, changing rooms, picnic tables, bike shop and four restaurants.
Zip Line Tours
Navitat Zipline Canopy Adventure - An unprecedented mountaintop zipline adventure! Nowhere else will you find ziplines this long, this high, and this fast integrated into a truly spectacular wilderness setting.
Nantahala Zip Lines - NOC offers five aerial and zip line adventures with something for every one and every budget.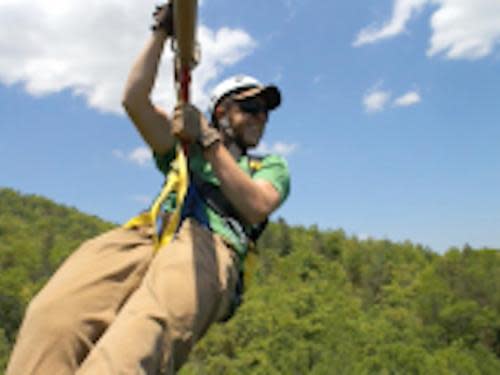 Our signature course is NOC's Mountaintop Zip Line Tour. There are many zip line canopy tours, but there are none like the Mountaintop. The Mountaintop is perched on the rim of the Nantahala Gorge, over 500 feet above the Nantahala River below, featuring 360-degree views of the Great Smoky Mountains National Park and the Nantahala Gorge.
While most zip line tours glide from tree to tree in forest canopies, the Mountaintop flies from ridgeline to ridgeline, culminating in the longest zipline in the region, a dramatic half-mile mega zip.
For the less adventurous, try NOC's Zip Line Adventure Park or "ZLAP." Located adjacent to NOC's Nantahala rafting operation, the ZLAP features 16 aerial adventure elements, from beginner to advanced, along with an exciting 600-foot dual zipline. Riders can weigh as little as 60 pounds.
Both activities are easily combined with a Nantahala rafting trip for a day of adventure. For groups, we also offer our Alpine Tower and Wesser Ridge Tree Climb. If you're over at the Ocoee, combine an Ocoee rafting trip with a zip line adventure park at Ocoee Retreat Center.
Hiking
Looking for a guided tour of the mountains and waterfalls around our area? Check out Asheville Adventures:
Welcome to Asheville Adventures! Let us help you explore the mountains of Western North Carolina with our private hiking tours!
We offer guided hikes around Asheville. We have two types of hiking tours: Mountaintop Tours and Waterfall Tours.
You choose what you want and we make it happen. All of our tours are private tours and completely customizable. Allow us to make this the greatest experience possible.
Winter Hiking
Just because the thermometer has dropped doesn't mean you have to spend your time indoors. Many enjoy hiking in the brisk, mountain air with more clothing layers and less bugs! Check out this link to see your mountain hiking options during the winter months:
http://www.romanticasheville.com/winter_hikes.htm
Winter Waterfalls
Nothing can compare to the beauty of a waterfall in the winter time. The frozen formations can be breathtaking and you won't have to deal with the crowds to see them. See the following link from romanticasheville.com for some of the best winter waterfall locations:

http://www.romanticasheville.com/winter_waterfalls.htm
Downtown Waynesville Cardio Trail: Walk the international way. Tour 6.2 miles of the downtown Waynesville area. A 10K walking route is designated for international volkssporting. More info at Mast General Store.
Max Patch Mountain (4,629 feet): Exit 7 off Interstate 40; easy 300-foot climb. Beautiful grassy bald with great views. Hiking: follow U.S. Forest Service trail to Max Patch Bald summit. Return via Appalachian Trail (right on AT) to road, or leave shuttle car at USFS parking area and continue driving on Max Patch Road for 3.6 miles to Lemon Gap on state line to park. Follow AT south for 6.0 miles to summit of Max Patch Mountain and down USFS trail to shuttle car.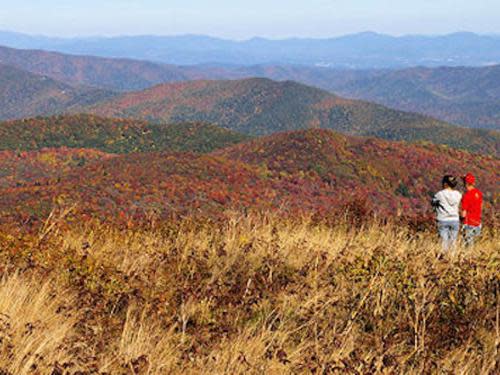 Black Balsam Knob: A must hike for sweeping views of the mountain is at Black Balsam Knob (6,214 ft elevation) along the Blue Ridge Parkway (milepost 420.2) It includes some of the most spectacular mountain balds in the Southern Appalachians, including Black Balsam, Sam Knob, and Tennent Mountain. These treeless mountaintops in the Pisgah National Forest draw people from afar due to their views and alpine-like appearance. You can hike almost three miles without dropping back into the trees. This is almost unheard of in this region. To reach the summit of Black Balsam Knob, look for the "Black Balsam" sign near milepost 420 on the Parkway, just south of Graveyard Fields and north of Devil's Courthouse. Drive about 8/10 of a mile down the road and look for the trail on the right. Park along the road. Walk about 1/2 mile through the forest to reach the open, grassy and rocky mountain meadows. Cross Sam's Knob and continue to Black Balsam (about a mile).
Crabtree Bald (5,320 feet): Take N.C. 209 North six miles; take a right onto SR 1503 near Crabtree-Ironduff Old School; go two miles; turn left on Bald Creek Road (SR 1505); go 3.1 miles; park where Indian Branch crosses road. Cross pasture gate on left; walk up path to ridge line—identified by antenna on top of bald.
Graveyard Fields: This beautiful area on the Blue Ridge Parkway (Milepost 418) is located 4.5 miles north on the Blue Ridge Parkway from the junction of N.C. 215. This high-elevation, flat mountain valley is perhaps the most popular hiking destination in Western North Carolina—and certainly one of the most unique, The Yellowstone Prong of the Pigeon River flows throw Graveyard Fields, and the trail offers many opportunities to enjoy the waters, including three beautiful waterfalls. (See more waterfall hikes.)
Devil's Courthouse: Located at milepost 422.4 of the Blue Ridge Parkway, the Devil's Courthouse has a short but strenuous 1/2-mile trail to its peak with panoramic views. The mostly paved trail starts from the overlook beside the mountain. According to the sign at the overlook: The bare rock profile named Devil's Courthouse is sinister in appearance and legend.
Waterrock Knob: An ideal spot for watching sunrise and sunsets across the rugged mountains, Waterrock Knob Visitor Center sits at almost 6,000 feet elevation. Exhibits, book sales, and a 1/2-mile trail leading to the summit of Waterrock Knob are located on the Blue Ridge Parkway at Milepost 451.2.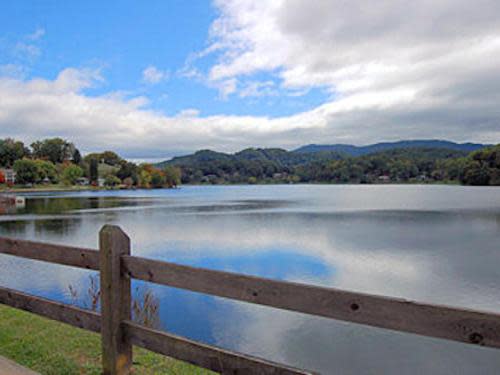 Lake Junaluska Trail: Walk the 2.5-mile loop around the lake (photo at right), stopping to rest in gazebos. This is the easiest trail on the list and includes beautiful landscaping, a Butterfly Garden, benches and a waterfall. It's just a few miles from our bed and breakfast.
Cataloochee Divide Trail (5,540 feet): Cove Creek Road off U.S. 276 North. Strenuous 14-mile, 1,500-foot climb to Hemphill Bald—an open pasture with beautiful vistas. You may opt to station shuttle car termination at Paul's Gap trail, reducing walking distance to 11.5 miles. Hiking: Take trail on left (SW); follow well-defined trail to Hemphill Bald (7 miles) or beyond.
Chimney Rock: The natural fulfillment of your trip to the North Carolina mountains. Take a deep breath of refreshing mountain air, become invigorated by our hiking trails, and let your cares fade away in the cool mist of Hickory Nut Falls. This is the perfect place to reconnect with nature and spend time with family and friends. Only minutes from Lake Lure, Chimney Rock offers the best of the mountains in one place – spectacular 75-mile views, hiking trails for all ages, a 404-foot waterfall, a variety of events and more. Chimney Rock at Chimney Rock State Park is proud to be part of the Blue Ridge National Heritage Area and is located just 25 miles southeast of Asheville, NC and 20 miles from the Blue Ridge Parkway.
Cold Mountain: Hike to the top of the famous Cold Mountain, namesake to the best-selling novel and movie. It's a strenuous 10.6 mile roundtrip with a big elevation gain, so it will take you most of a day. See more details for this hike.
Looking Glass Rock: Some of you have seen Looking Glass Rock from the Blue Ridge Parkway at Milepost 417. The stone face in Pisgah National Forest looks impossible to hike, and you sometimes see professional rock climbers on this impressive peak. Good news! If you drive around to the other side of Looking Glass Rock in the Brevard area, you will find a very walkable trail to the top to enjoy the great views, looking back toward the Blue Ridge Parkway. The Looking Glass Rock Trail is a perfect for a winter hike (but watch for ice on top of rock face). The Looking Glass Rock Trail climbs about 1,700 feet in just over three miles (6.5 miles roundtrip, allow 4-5 hours). The many switchbacks along the way help make for a long, but only moderately difficult climb. The views from the top are well worth the effort. The trail is well blazed in yellow and easy to follow. Take U.S. 276 South toward Brevard. About 10 miles past the Blue Ridge Parkway, look for a sign for Pisgah Center for Wildlife Education and the State Fish Hatchery. Turn here and go to the parking area for Looking Glass Rock.
Pisgah National Forest: This is a mecca for vacationers, naturalists and adventurers, offering a wide range of options for your recreating pleasure. Just to mention a few, there's hiking and backpacking, fishing, biking, horseback riding, swimming, rock climbing, car touring, waterfalls, wildlife, historical areas, and a variety of special programs. Read more about Pisgah National Forest.
Cradle Of Forestry: Continuing a legacy of forest conservation history, the Cradle of Forestry offers a snap shot of life at America's first school of Forestry along the Biltmore Campus Trail. You can also take a picturesque walk along the Forest Festival Trail complete with a restored 1915 logging locomotive, or take a ride with firefighters aboard a helicopter on their way to a roaring fire in the wilds of Idaho in the Forest Discovery Center Exhibit Hall.
Come explore the sights and sounds, check out the events and activities, and plan your adventure at the birthplace of Forest Conservation in America – the Cradle of Forestry.
Also see: Great Smoky Mountains
Click to Download Haywood County Hiking Guide

Download PDF
Skiing and Winter Activities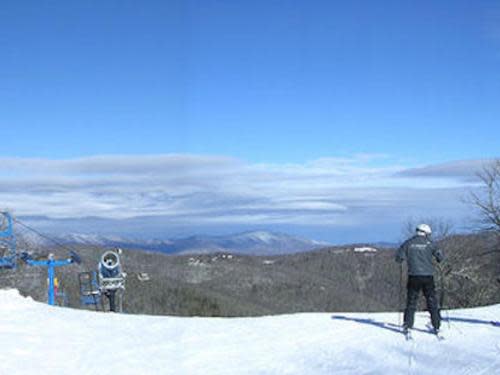 Skiing and other winter fun is just up the road from our bed and breakfast. Hit the slopes, on skis or snowboard, at Cataloochee Ski Area. Slide down the powder-covered hill at Tube World.
Cataloochee Ski Area: Consistently one of the earliest resorts in the Southeast to open the ski season and the latest to close, thanks to its technologically advanced snowmaking capability, Cataloochee Ski Area is a winter playground. With 14 slopes and trails, Cataloochee Ski Area offers mountains of fun for everyone, from skiers to snowboarders, from novices to veterans. Beginners can get a feel for things on a couple of smooth, gentle slopes (classes and private lessons are also available), while the more adventurous can head to the ramps, rails and boxes at the Cat Cage Terrain Park. For those with a need for speed, there's plenty of steepness on this mountain. Nestled in the Great Smoky Mountains, the surrounding views are magical. When you need a break or have taken the skis off for the day, check out the lodge, where you can warm up by the double-sided fireplace, enjoy some good food and drink, and perhaps even listen to a live band.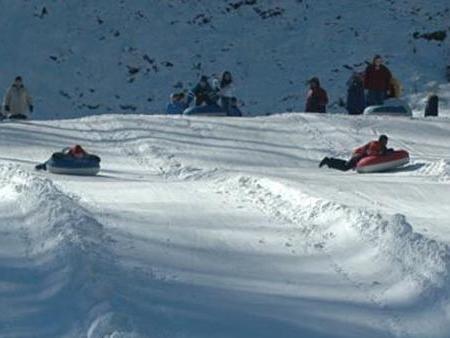 Tube World: Ride the crest of the latest wave in outdoor winter fun. Tube World now brings this exciting fun-packed family experience to Maggie Valley. With Cataloochee's famous snowmaking expertise, the five-run snow tube park is sure to be a must for visitors and locals alike. Sit back and enjoy the moving carpet lift to the top and then get ready for the slide of your life. Conveniently located across from Ghost Town on Highway 19 in Maggie Valley.
Fishing
Rushing streams, sparkling rivers, rippled ponds, and serene lakes are plentiful in Haywood County. And a unique feature of the water here is that it all originates here. No water flows into the county. Filled with native mountain trout, the creeks, streams, rivers, and ponds are ideal for fly fishing. So grab your tackle box, get ready to cast your fly rod and enjoy the pleasures and peacefulness of fishing in our mountain waters.
Soco Gap Trout Ponds: Everything is supplied. No limit on the amount of fish caught. Rainbow trout available. Call for current hours and pricing. 828-926-3635. 43 Rena Drive, Maggie Valley, NC 28751.
Sorrell's Creek Trout Farm: Visit the Cold Mountain Trout Company's Fishing Park. Full of quality trout. No license required and no limit. Picnic areas (and grills for the fresh catch) alongside the catch-out ponds. Equipment available for rent. 828-648-9903. 443 Sorrells Creek Road, Canton, NC 28716.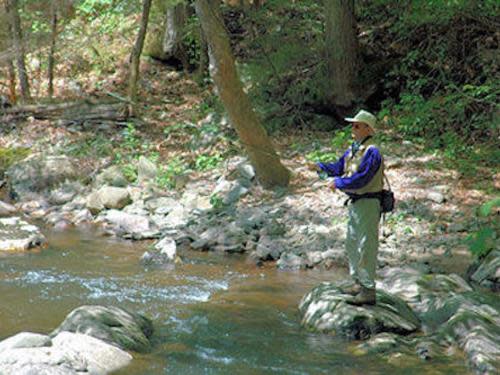 Fishing Rules & Regulations
Individuals 16 and older are required to have a valid fishing license, $20 per year for North Carolina residents. Non-residents may purchase a 10-day license for $10 or an annual license for $30. Trout stamps, an additional $10, are required to fish on any state-supported streams. On the Cherokee Indian Reservation, no license is required, only a $7 daily tribal permit. For more information on rules and regulations, visit the North Carolina Wildlife Resources Commission. Beginning July 1, 2008, residents and visitors alike will have a new (and cheaper!) way to enjoy trout fishing in Haywood County. As part of the state's Mountain Heritage Trout Waters Program, to be established and implemented by the N.C. Wildlife Resources Commission, Maggie Valley and Waynesville have been designated as two of only a handful of Mountain Heritage Trout Cities. Three-day fishing licenses will be available from authorized locations for only $5. This entitles the license holder to fish in Mountain Heritage Trout Waters (Jonathan Creek in Maggie Valley and Richland Creek in Waynesville) for three consecutive days. Specific areas of Jonathan and Richland creeks with public access will be designated for those with the three-day license. This special 3-day license can be purchased at the Maggie Valley chamber of Commerce located at 2961 Soco Road or online at http://fishinglicense.org or by telephone Monday - Friday, 8 am to 5pm at 888-248-6834.
Fishing Guide Services
Fly Fishing The Smokies - Waynesville North Carolina's Best Fly Fishing Outfitter and Guide Service! We offer private all inclusive Guided Fly Fishing trips daily out of Maggie Valley and Waynesville. Since 1999 we have guided anglers on some of the most beautiful Trout Streams in all of North Carolina. We guide the Great Smoky Mountains National Park, Blue Ridge Mountains, the Tuckasegee River, the Little Tennessee River, WNC Fly Fishing Trail, and Cherokee Fly Fishing Only Trophy Trout waters. Discover the majestic streams and mountains with the Smokies' most experienced Outfitter and Guides.
Mountain Biking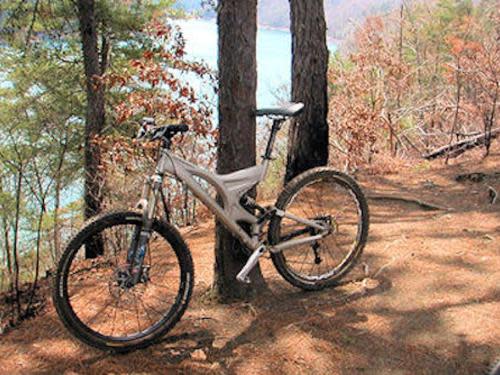 The popular Tsali Recreation Area has long been a top destination for mountain biking in Western North Carolina, and even the entire eastern US. It's about 35 miles from our bed and breakfast inn. Containing nearly 40 miles of trails in a system with four excellent loops, it has been rated as one of the top 10 places to ride in the USA. The area is located on a hilly peninsula reaching into beautiful Fontana Lake, at the base of the Great Smoky Mountains. The four long main trails at Tsali wind along the lake shore and onto the wooded, steep interior ridges. There are several connector trails, gravel roads and extension trails that give a few more options for rides besides the main loops. Three designated overlooks along the trails provide sweeping views of Fontana Lake with the Great Smoky Mountains National Park on the other side. The trails are fast, hardpacked singletrack, and they're extremely well designed and well used. Trails alternate use between mountain bikers and horseback riders on different days; two will always be open to mountain biking. There is a $2.00 trail use fee for one day. From Bryson City, NC, follow US 19/74 (Great Smoky Mountains Expressway) to intersection with NC 28 north. Follow NC 28 north (a 4-lane highway) about 3 miles to the top of the hill and a sign for the Tsali Recreation Area; turn right. Follow the paved road to the campground and trailhead parking lot; park in the lot signed "Bikers Park and Pay Here." To rent bikes, check with Nantahala Outdoor Center (they have some good trails too).
Horseback Riding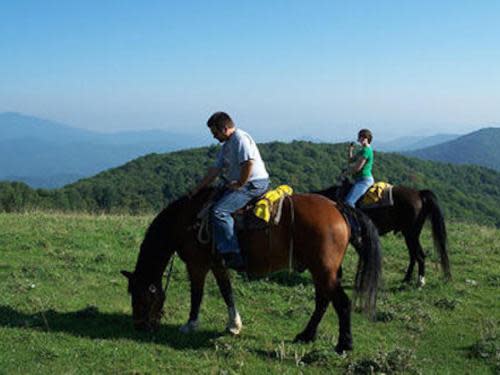 Time to saddle up. One of the most popular activities in our area, horseback riding is an ideal method of traversing the mountains. From hourly rides to all-day trips offered by a host of stables, this is a great way to spend some quality time with family and friends, enjoying some spectacular scenary all the while. Whether traveling on a forested trail in the Great Smoky Mountains National Park or through an open field atop a bald, you'll love Horseback Riding through this Appalachian paradise. Take a guided ride:
Cataloochee Ranch: Enjoy hosts of wildflowers, mile-high vistas, lush forests, or the cool quietness of rhododendron tunnels as you ride through Cataloochee Ranch or the surrounding Great Smoky Mountains National Park. Half- and all-day rides. April through November. Reservations required. 828-926-1401. 800-868-1401. 119 Ranch Drive, Maggie Valley, NC 28751.
Queen's Farm Riding Stables: Guided mountain tours. Convenient location between Maggie Valley and Waynesville. 828-926-0718. 2180 Dellwood Road, Waynesville, NC 28786.
Panther Creek Outfitters: Horseback rides of all kinds! Hourly rides, half day rides, full day rides, fishing trips & hunting trips. Open all year round. Call 828-627-1913 for reservations and directions.
After a day of enjoy the outdoors in the Blue Ridge and Great Smoky Mountains, return to our luxury Waynesville bed and breakfast near Asheville to relax!
Hot Air Balloon Rides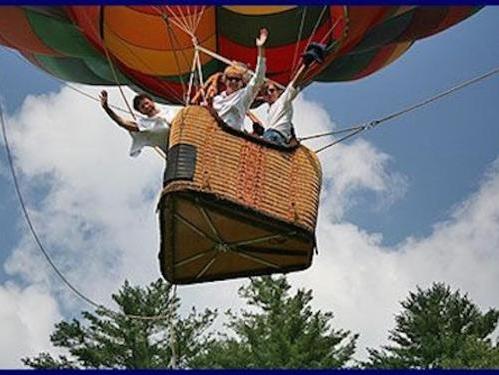 Asheville Hot Air Balloons
Curious how to spend your vacation or free time in Western North Carolina? Asheville Hot air balloons has your ticket! Hot air ballooning is a once in a lifetime experience to float above it all and experience one of the most beautiful backdrops in the world, the Pisgah National Forest. Hot air ballooning is truly the premier outdoor attraction and one of the most incredible things to do in Asheville, NC!
Swimming Venues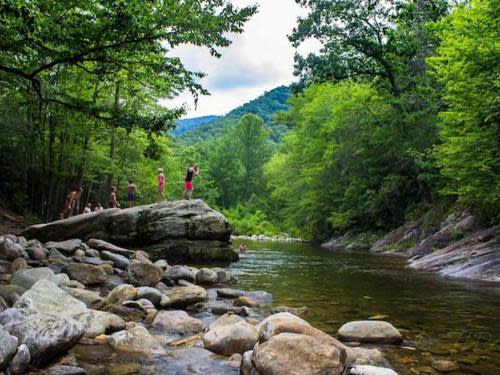 SUNBURST SWIMMING HOLE
Sunburst Swimming hole is a natural mountain water swimming hole, so the water is crisp, clear, fresh and cold. Sunburst has two primary swimming areas.
One has a large rock that you can jump off and plunge into the deep cool waters. There is even a rope here you can use.
The second area is more beach like, with a shallows that slowly transitions into deeper waters for swimming.
For more information and driving directions from our Inn, go to the following website link:
https://blueridgemountainlife.com/sunburst-swimming-hole/
This fantastic swimming venue is only 8 miles from our Inn and takes a mere 15 minutes to get to by means of some beautiful mountain roads.
SLIDING ROCK FALLS
Sliding rock is an all natural, 60′ waterfall that you can slide down and then plunge into a 8′ pool at the bottom. During busy times, the line to slide extends the entire length of the 60′ boulder, along the metal fence shown in the photo above. People wait their turn to get into their favorite spot and then slide through the 50-60 degree water. The water is cold, but refreshing. More than 11,000 gallons of water flow over sliding rock each minute to propel you down the slide and into the pool. Sliding Rock is incredibly popular, and can often be very busy during the summer months, especially on weekends.
For more information and driving directions, go to the following website link: